Počas priameho prenosu z budovy Slovenskej filharmónie si sošku odnieslo deväť výnimočných Sloveniek nominovaných v jednotlivých kategóriách. Rovnako ako po minulé roky, hodnotiaca komisia aj tento rok vybrala jednu z víťaziek na titul Absolútna Slovenka roka 2022. Novinkou bolo špeciálne ocenenie a mimoriadne poďakovanie.
V ankete Slovenka roka vám týždenník Slovenka už každoročne prináša dvadsaťosem ľudských príbehov. Sú to príbehy žien, ktoré v pracovnej oblasti prerazili svojim rozumom, v súkromnej láskavosťou a najmä sa nebáli ísť za svojím cieľom. Postupne a s pokorou kráčali cestou na ktorú môžu byť hrdé nie len oni, ale aj my všetci ostatní. Pretože len tak môže fungovať zdravá spoločnosť. V prajnosti, úcte a inteligencii. Ďakujeme Vám milé Slovenky za váš prínos a inšpiráciu.
Slávnostným galavečerom z budovy Slovenskej filharmónie pod režisérskou taktovkou Kataríny Ďurovičovej sprevádzala divákov RTVS a pozvaných hostí moderátorská dvojica Simona Simanová a Juraj Bača. Program večera bol inšpirovaný nielen výnimočnosťou nominovaných dám, ale i blížiacim sa podujatím Slovenský Deň Kroja. Počas večera sa predstavili Tublatanka, Sisa Sklovská, Otokar Klein a Bratislavský chlapčenský zbor, Skyva a FS Očovan. Výnimočnou chvíľou bola spomienka na Mekyho Žbirku v duete s Katarínou Knechtovou.
Hneď na úvod programu hostí aj divákov nabudila legendárna Tublatanka na čele s Martinom Ďurindom so svojou skladbou Dnes.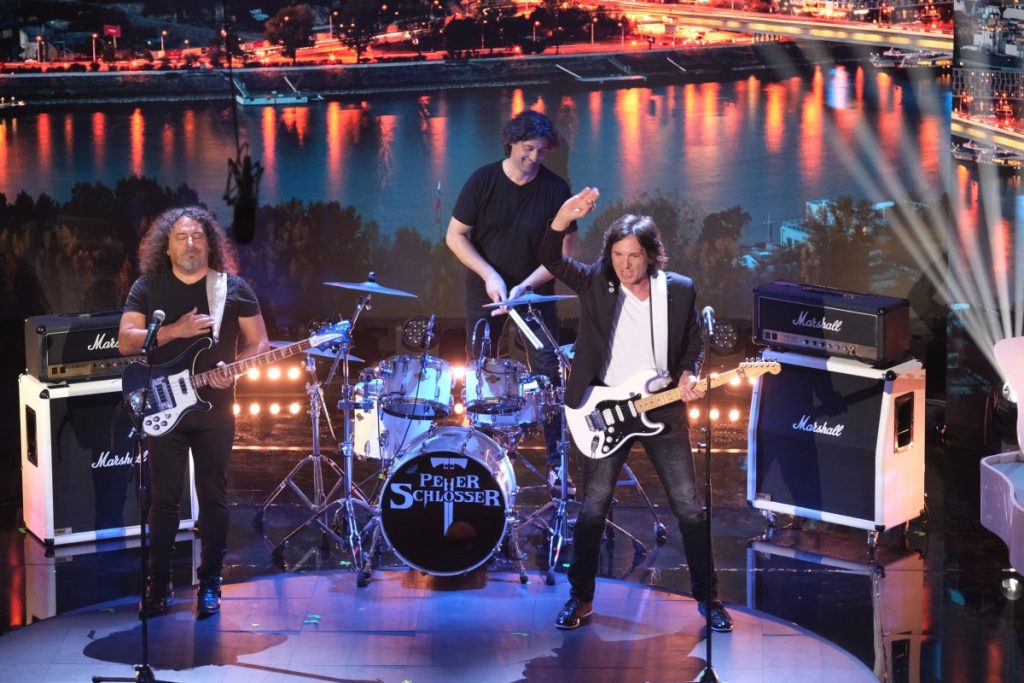 Po nej nasledoval príhovor starostky Mestskej časti Bratislava-Staré Mesto Ing. Arch. Zuzany Aufrichtovej, ktorá prevzala nad podujatím záštitu nad celým podujatím. Vyzdvihla v ňom pracovitosť nominantiek a súčasne ich schopnosť radovať sa zo života.
Generálna riaditeľka vydavateľstva STAR Production Ing. Mária Reháková, generálny riaditeľ Slovenskej filharmónie Marián Turner, básnik a textár Kamil Peteraj, Petr Kejzar, zo spoločnosti Česká mincovňa SK a majiteľka klenotníctva Sheron Helena Krasňanská venujú mimoriadne ocenenie Katke Žbirkovej: "Ďakujem Márií, Kamilovi a všetkým fanúšikom. Veľa to pre mňa znamená. Meky na veky." "Meky je náš a spomienkou s nami ostáva. S celým Slovenskom," zaspomínala si s úctou na Mekyho Mária Reháková.
Z množstva diel Mira Žbirku patrí osobité miesto piesni Skúška snov, kde sa jeho hlas nádherne dopĺňa s hlasom Katky Knechtovej.
Po emotívnom úvode nasledovalo dlho očakávané vyhlásenie víťaziek v deviatich kategóriách.
V kategórií BIZNIS A MANAŽMENT zvíťazila Ing. NADEŽDA DEMETEROVÁ. Cenu jej prišli odovzdať Tatiana Nátna, prezidentka Top centra podnikateliek Slovenska a Martin Gális zo spoločnosti Philip Morris.
Boris Bánovský zo Slovenských liečebných kúpeľov Piešťany, a.s., a Smrdáky Ensana Health Spa Hotels, spolu s ním aj Richard Frič z kozmetickej spoločnosti ALMAF BEAUTY odovzdali sošku víťazke v kategórií ŠPORT Mgr. art. LUCII OKOLIČÁNYOVEJ, ArtD.
V kategórií MÉDIÁ A KOMUNIKÁCIA ceny prichádzajú odovzdať Jaroslav Rezník – generálny riaditeľ RTVS a Juraj Donoval zo Slovenskej pošty, a.s. Víťazkou sa stala ANETA PARIŠKOVÁ.
Katarína Hanzelová, šéfredaktorka týždenníka Slovenka odovzdala špeciálnu cenu čitateľov týždenníka Slovenka KATARÍNE MARTINKOVEJ.
Nasledovala dojemná pieseň Ave Maria v podaní speváckej divy Sisy Sklovskej. Na klavíri ju sprevádzal Richard Rikkon.
Ocenenie v kategórii UMENIE A KULTÚRA získala KATARÍNA KNECHTOVÁ. Cenu prišli odovzdať Vladimír Grežo predseda predstavenstva Bratislava Tourist Board a Martin Koller zo spoločnosti Tchibo Slovensko.
V kategórii VEDA A VÝSKUM ceny priniesli Radoslav Horečný z TOP auto Slovakia, za značku Jaguár a Eduard Burda, dekan Právnickej fakulty Univerzity Komenského v Bratislave. Víťazkou sa stala doc. RNDr. TATIANA BETÁKOVÁ, DrSc.
V kategórii VZDELÁVANIE ceny odovzdali Rudolf Sivák, prorektor pre rozvoj Ekonomickej univerzite v Bratislave a Vladislav Stanko, majiteľ EUROPEAN INSTITUTE Prague a poslanec mesta Košice. Víťazkou sa stala RNDr. EVA NEBUSOVÁ.
Bratislavský chlapčenský zbor, pod vedením víťazky v tejto kategórii spred troch rokov, Magdalény Rovňákovej nám spolu s Otokarom Kleinom zaspievali pieseň Funiculi, Funicula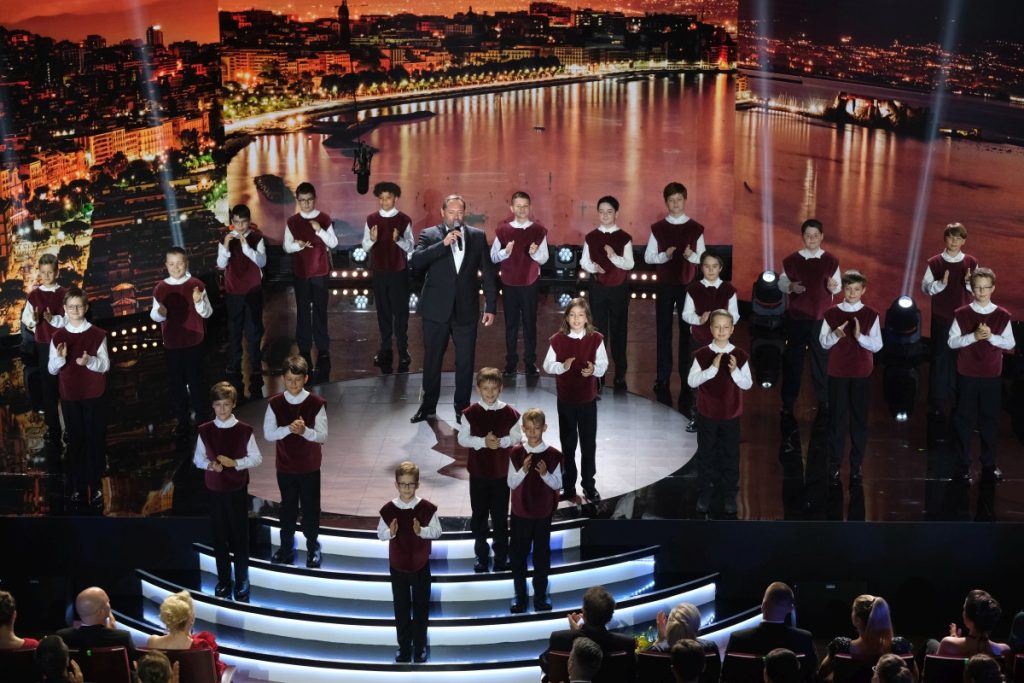 Cenu v kategórii ZDRAVOTNÍCTVO odovzdal víťazke PhDr. ALENE KELLNEROVEJ, MPH.Tomislav Jurik, predseda predstavenstva spoločnosti Zdravý život, a.s.
Predseda NR SR Boris Kollár, Jana Chudíková, primárka na klinike estetickej medicíny a plastickej chirurgie NU CLINIC a Magdaléna Komiňáková zo Siloe design priniesli spoločne cenu pre víťazku kategórie CHARITA, ANNE MALÍKOVEJ, sestre BERNADETTE.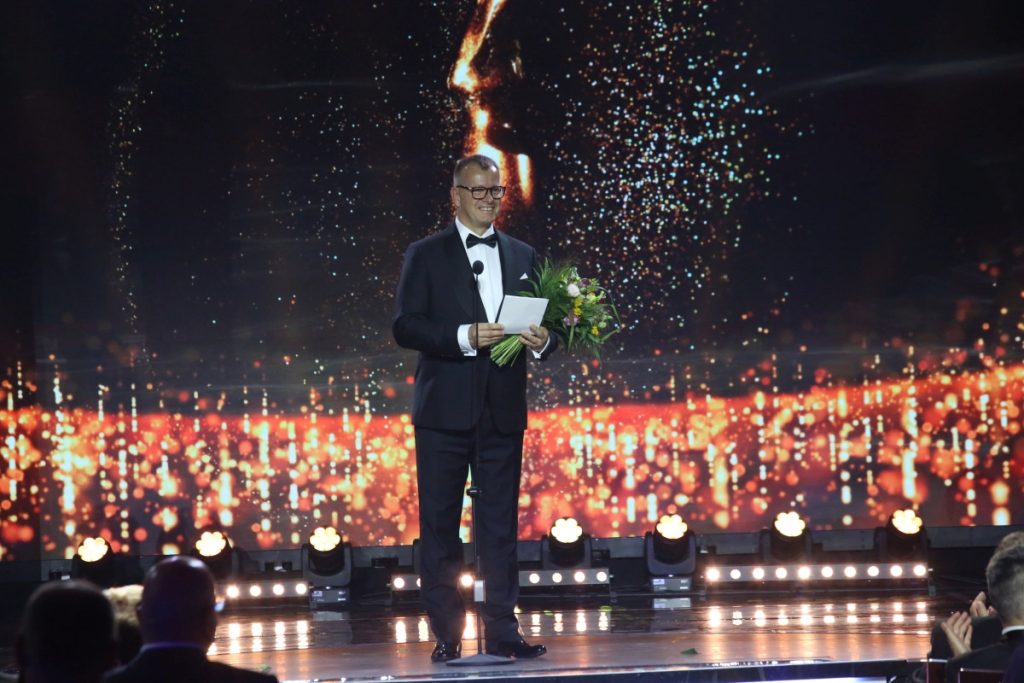 Súčasťou množstva darov, ktoré od nás získajú víťazky jednotlivých kategórií okrem sošky od Jany Brisudovej,je aj exkluzívny šperk – brošňa od šperkára Mareka Husovského.
Hlas patriaci charizmatickej a neprehliadnuteľnej speváčke SKYVA z umeleckého zoskupenia Ars Poetica nás pohladil na duši.
Cenu za PODPORU MLADÝCH TALENTOV tento rok získala ERIKA KAROVÁ. Prevzala si ju z rúk Elišky Kubíkovej, dvojnásobnej docentke Lekárskej fakulty UK v Bratislave a Ing. Blažeja Bodnára, zo spoločnosti HYZA a.s.
Nasledovala skupina TUBLATANKA, ktorá dojala poslucháčov krásnou piesňou MATKA.
Príchod Márie Rehákovej, riaditeľky vydavateľstva STAR production a organizátorky ankety Slovenka roka a Vladimíra Bakeša, predsedu predstavenstva a generálneho riaditeľa spoločnosti KOOPERATIVA poisťovňa, a.s. Vienna Insurance Group, znamenal len jedno – prišli sme k vrcholu a celé Slovensko sa dozvedelo meno Absolútnej Slovenky, ktorú spomedzi víťaziek jednotlivých kategórii vybrala Nominačná komisia. Spomedzi 9 úspešných ocenených žien si toto prestížne ocenenie prevzala RNDr. EVA NEBUSOVÁ.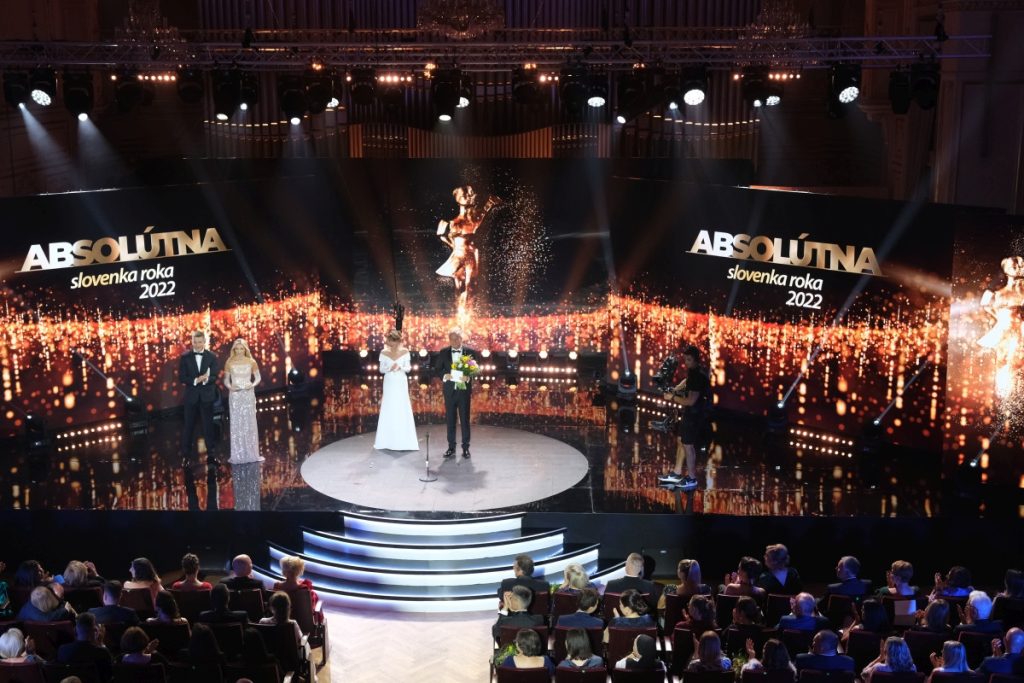 Veľkolepý galavečer plný emócií, úspešných a talentovaných žien grandiózne ukončil Folklórny súbor Očovan.
Záver večera patril pozvánke na jedinečné podujatie SLOVENSKÝ DEŇ KROJA, na ktorý všetkých pozvala v spoločnosti vnučky a vnúčika v krojoch Mária Reháková. Organizátorka ankety a generálna riaditeľka vydavateľstva STAR Production sa pred štrnástimi rokmi stretávala s pochybnosťami. Ľudia sa jej pýtali, kde v našej malej krajine dokáže nájsť taký počet šikovných žien, ona však nezapochybovala ani na chvíľu. Cítila, že sme krajina s veľkým srdcom, ktorá má čo ponúknuť svetu aj sebe samotnej. Naše ženy, plné odhodlania starať sa o rodiny a zároveň nezabudnúť na seba. Rola znejúca tak ľahko a pritom jedna z najťažších na svete.
V mene celej redakcie BLAHOŽELÁME všetkým oceneným Slovenkám roka!