To, že pes dobre vplýva na psychiku človeka, je známe už takmer od dávna. Pred niekoľkými rokmi však odborníci prišli na to, že toto zviera dokáže špeciálne pomôcť aj chorým ľuďom. Vznikol tak celkom nový liečebný odbor – canisterapia. Pomenovanie dostal z latinského názvu canis – čo znamená pes. Canisterapia pomáha už niekoľko rokov aj deťom v Špecializovanom liečebnom ústave Marína, v Kováčovej.
Canisterapia je liečebná terapia, pri ktorej sa využívajú prirodzené vlastnosti a pozitívne pôsobenie psa na zlepšenie zdravotného stavu pacienta. Pes pozitívne pôsobí najmä na psychickú, fyzickú a sociálnu pohodu človeka. Pri terapii sa využívajú špeciálne vycvičené psy. Základy tejto stále viac využívanej metódy spočívajú v motivácií a následnom emocionálnom zážitku pacienta. Canisterapiu v Maríne využívajú najmä ako podpornú metódu v rámci celkového liečebného procesu, a to hlavne u detí. "Canisterapiu využívame najmä pri detských pacientoch s ochoreniami ako sú autizmus, detská mozgová obrna, poruchy správania, poruchyhrubej, jemnej motoriky, poruchy reči, či psychické poruchy ako napríklad depresie," vyratúva primárka MUDr. Katarína Recabarrenová.
Relax i hra so psíkom
Počas terapie so psíkmi sa využíva takzvanárelaxačná a aktívna terapia.Pri relaxačnej terapii je základom polohovanie so psom. Patrí k najúčinnejším, ale zároveň k najnáročnejším metódam canisterapie. Zakladá sa na priamom kontakte detského pacienta a psa. S polohovaním pomáha fyzioterapeut, ktorý určuje jednotlivé polohy podľa stavu a potreby pacienta. Jedným z fyzioterapeutov, ktorý sa v Maríne venuje canisterapii je aj Dávid Sprušanský. Vysvetlil nám, že relaxačná terapia je veľmi účinná pri ťažko postihnutých detských pacientoch, najmä s diagnózami ako detská mozgová obrna, či autizmus. Počas polohovania dieťa cíti teplo, tep, srsť psa, čo prispieva k upokojeniu, zahriatiu, uvoľneniu napríklad ruky – päste, k prehĺbeniu dýchania a zosynchronizovaniu dychu so psom.Aktívna terapia je zasa vhodná na precvičovanie jemnej a hrubej motoriky. Využíva sa tu najmä odmeňovanie psov, česanie psa, rozopínanie obojka, loptové hry a podobne. Počas terapie si deti precvičujú najmä motoriku ako napríklad úchop, či hody. "Napríklad pri odmeňovaní psa granulami alebo piškótami, ktoré sú často primalé si deti trénujú úchop, čo býva problematické najmä u detí po mozgovej obrne," hovorí Dávid, ktorýsa v minulosti venoval canisterapii aj vo voľnom čase a potom spolu so svojím psomviedol canisterapiu aj v Maríne.
Miška a jej dalmatínci
V súčasnosti má však Marína novú štvornohú posilu – a to dvoch dalmatíncov, Mimi a Auru. Osemročná Mimi je maminou päťročnej Aury, ktorá sa narodila naozaj na čarovný dátum, 23. marca, čo je Svetový deň šteniatok.Tieto psíky patria a vycvičila ich Ing. Michaela Chrenová. Treba povedať, že Miška, ako tu pani Michaelu familiárne volajú, je veľmi skúsená – veď canisterapii sa venuje už osem rokov, a za ten čas vycvičila troch psov. Prevádzkuje vlastnú chovateľskú stanicu dalmatínskeho psa Werewolves Cascade a zároveň je aj podpredsedníčkou Klubu chovateľov dalmatínskych psov.Pani Michaela pracuje na Strednej odbornej škole Pod Bánošom v Banskej Bystrici, kde vyučuje odbor o zvieratách a tiež canisterapiu. Takže môžeme povedať, že obľúbené hobby sa stalo aj jej prácou. Boli sme zvedaví, ako sa vlastne ku canisterapii dostala. "Na internete som si všimla informáciu o skúškach z canisterapie, a zaujalo ma to. Išla som sa pozrieť, a o rok som tam bola so sučkou Mimi i ja sama.No, poviem vám, nebolo to jednoduché.V čase skúšok bola Mimi v období puberty a hrozne sa bláznila, ale nakoniec sme skúšky predsa len úspešne zvládli," opisuje Michaela.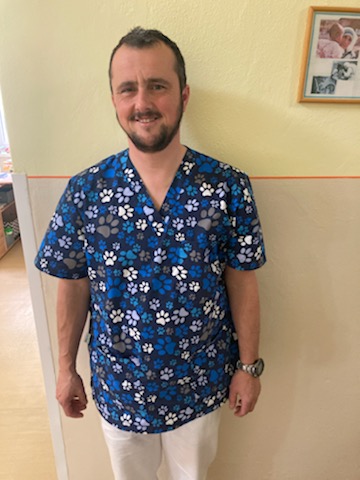 Hlavne pokojné typy
Mnohým z vás napadne otázka, ako dlho trvá vycvičiť psa na canisterapiu, teda tak, aby mohol podstúpiť regulárne skúšky a uspieť? "Ideálne je začať s prípravou už od šteniatka a psíka treba pripravovať na rôzne ruchy a podnety.Každý pes má inú povahu, ktorá sa však ešte vekom môže meniť, čo môže viesť k tomu, že je viac podráždený. Pri canisterapii je veľmi dôležité, aby pes bol naozaj pokojný a zvládal aj prudšie pohyby pacientov," vysvetľuje trénerka psíkov.Podľa súčasnej legislatívy skúšky z canisterapie je možné absolvovať pri malých psoch už od 15 mesiacov a pri stredných a väčších plemenách je to od 18 mesiacov. "Jedným z faktorov, na ktoré hodnotiteľ na skúškach prihliada, je aj vzťah majiteľa a psa. Je veľmi dôležité ako sa majiteľ k svojmu psovi správa a, či ho pes počúva," vraví ďalej Michaela. Možno sa to na prvý pohľad nezdá, no canisterapia je náročná aj pre samotné zviera. Preto sa odporúča využiť psíka na terapiu maximálne na jednu hodinu dvakrát do týždňa. To je, akýsi "pracovný úväzok" pre štvornohého terapeuta.V prípade, že sa počas terapie striedajú dva psi, môže to byť aj o čosi dlhšie.
Aj psíky idú do dôchodku
Rovnako ako ľudia, aj psi majú svoj "dôchodkový vek".A ten prichádza po piatich až deviatich "odpracovaných" rokoch. Totiž, ideálny vek na canisterapiu u psa je medzi 5. až 9. rokom. Pokiaľ to však zviera fyzicky zvláda a nemá zdravotné problémy, môže "pracovať" aj do vyššieho veku.VŠpecializovanom liečebnom ústave Marína patrí canisterapia medzi obľúbené liečebné procedúry a prispieva k zlepšeniu zdravia pacientov. Pes sa tu stáva nielen priateľom, ale aj motiváciou k pohybu a rehabilitácii pre našich klientov. Špecializovaný liečebný ústav Marína v Kováčovej poskytuje liečbu už 46 rokov. V roku 1976 bol uvedený do prevádzky ako Detská kúpeľná liečebňa Marína. Dlhé roky sa v Kováčovej špecializovali len na detského pacienta. Dnes, presnejšie od roku 2004, však poskytujú kúpeľnú a rehabilitačnú starostlivosť aj pre dospelých pacientov. Obe skupiny pacientov dostávajú tú najlepšiu starostlivosť. Mnohým liečba výrazne pomohla a aj vďaka Maríne boli schopní vrátiť sa späť do života.
Spracovala Viera Mašlejová
FOTO: ŠLÚ Marína