Vianočný čas sa spája aj s písaním listov Ježiškovi, ktoré sa v mnohých rodinách stalo milou predvianočnou tradíciou. Ak máte chuť bližšie sa pozrieť na sny a túžby malých zvedavcov, určite čítajte ďalej…
Aurora, 4
Malá princezná má vo veciach jasno! Vianoce majú byť trblietavé a práve taký je aj jej list prianí Ježiškovi. Pôvodným želaním bola čarovná palička s flitrovanou hviezdičkou, ktorá mení ľudí na princezné. Keď jej však rodičia vysvetlili, že to možno Ježiško nezoženie, vymenila prianie za čarovnú paličku s flitrovou hviezdou, ktorá mení ľudí na motýle (úsmev). Okrem toho flitrované šaty, ktoré stále blikajú, flitrovaná guľa, flitre, filtrované sponky a 10 šiat. Jednoducho, všetko, čo sa blyští, sa ráta.
Grétka, 2
Hoci toho malá Grétka ešte veľa nenapíše, svojim rodičom aspoň prezradila, čo by si rada našla pod stromčekom. Jej odpoveď bola jasná: "Bábo!" – čo v preklade znamená bábiku, aby si budúca maminka mohla trénovať svoje zručnosti dostatočne skoro.
Oliver, 4
Jej brat Oliver až taký skromný nebol. Auto na diaľkové ovládanie aj lego, najmä však čo najväčšie a čo najviac (úsmev).
Tomáš, 8
Malý nezbedník neváhal a Ježiškovi napísal, ako to tento rok vidí. A veru sa netrocháril, keď si zaprial tablet, policajnú stanicu aj rockerskú gitaru. Len či to tak bolo aj s tým poslúchaním…
Lukáš, 6
Zdá sa, že blonďavý huncút ašpiruje na vedeckú kariéru, keď si okrem iného zaprial mikroskop. Rodičia sa majú na čo tešiť, pokusy a experimenty predsa obľubuje každá poriadkumilovná mamina.
Šimon, 6
Šimon nenechal nič na náhodu a svoj list Ježiškovi poslal priamo cez Slovenskú poštu na jeho oficiálnu adresu 999 99 Ježiško. A aby neprišlo k omylu, chlapec Ježiškovi pre istotu aj vystrihol, čo presne má na mysli. Isté je, že mu Ježiško pomocou pošty aj odpovie.
Daniela, 6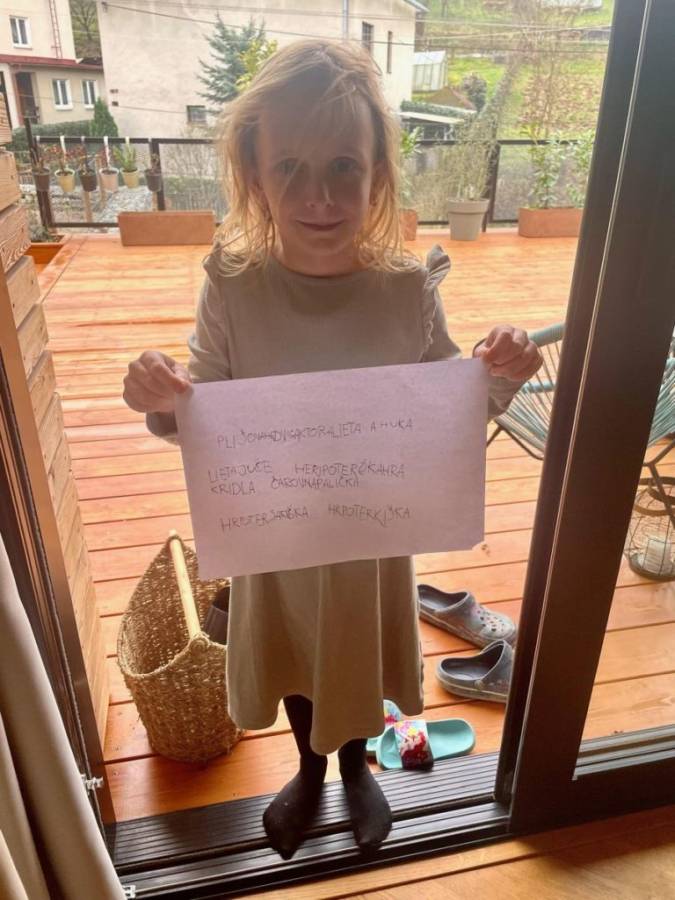 Milovníčka Harryho Pottera túži po všetkom, čo je s ním spojené. Samozrejmosťou v jej liste je preto plyšová sova Hedviga, ktorá lieta a húka, neviditeľný plášť, čarovná palička, ktorá naozaj čaruje, ale aj krídla, ktoré naozaj lietajú.
Jonáš, 7
Jonáškov list asi Ježiška neprekvapí. Tak ako mnohí malí kamaráti si pod stromček praje všetko a veľa (úsmev).
Olívia, 1
Vzhľadom na to, že Olívia zo všetkého najradšej kávičkuje so svojou mamičkou, Ježiška spoločne poprosili o drevený hračkársky kávovar. Kto vie, ako to dopadne.
Jakub, 1
Malý milovník áut síce svoje prianie ešte napísať nevie, ale Ježiškovi je už teraz jasné, že krásnym autíčkom nepohrdne.
A čo vy dospelí? Aké by boli vaše priania, ak by ste mohli napísať Ježiškovi? Prajeme vám pokojné a krásne Vianoce!