Mal to byť len letný úlet, návrh na spoločné chvíle…bez viazanosti. Potom sa zasa rozídeme a pôjdeme vlastnou cestou. No skončilo sa to úplne inak. Obaja si uvedomili, že to čo majú, je oveľa viac…a ich chémia fungovala absolútne dokonalo. Taký je Letný návrh od Vi Keelandovej. 
Každá žena raz stretne muža, na ktorého nikdy nezabudne, a zažije leto, keď sa to všetko začalo.
S Maxom sme sa spoznali na rande naslepo. Očaril ma šarmom a vtipom. A tie jamky na lícach! Presne takéto rozptýlenie som po rozchode potrebovala. Nadšenie však trvalo len do chvíle, keď sa uprostred konverzácie dostavil ten pravý. Ukázalo sa, že Max si ma len náhodou všimol v podniku, kde som čakala na spoločnosť, a využil to. Neviete si predstaviť to sklamanie!
"Prepáč. Volám sa Max."
"Máš vo zvyku vydávať sa za niekoho iného?"
Pokrútil hlavou. "Len… zbadal som ťa tu, keď som šiel okolo. Zapáčil sa mi tvoj úsmev. Chcel som sa ti predstaviť, no ukázalo sa, že na niekoho čakáš. Asi som spanikáril, že sa so mnou nebudeš baviť, keďže nie som Adam. Tak som ťa v tom nechal."
Pred odchodom mi dal Max lístok na hokejový zápas, keby mi vraj dohodnuté rande nevyšlo. Hodila som vstupenku do kabelky a pokúsila sa dať tomu druhému nešťastníkovi šancu. Márne. Cestou domov som teda zašla na zápas. Nikto si však ku mne neprisadol. Ďalšie sklamanie.
Tesne pred koncom tretiny však jeden z tímov skóroval a celá aréna vyskočila od radosti. Kamera nasnímala tvár vysmiateho hokejistu. Stuhla som. Uhádli ste: spoznala som ho podľa jamiek na lícach. Nuž a takto sa začalo moje dobrodružstvo s Maxom Yearwoodom. Navrhol mi, aby sme spolu strávili leto a užili si. Dobrý plán, však? Lenže viete, čo sa hovorí o plánoch…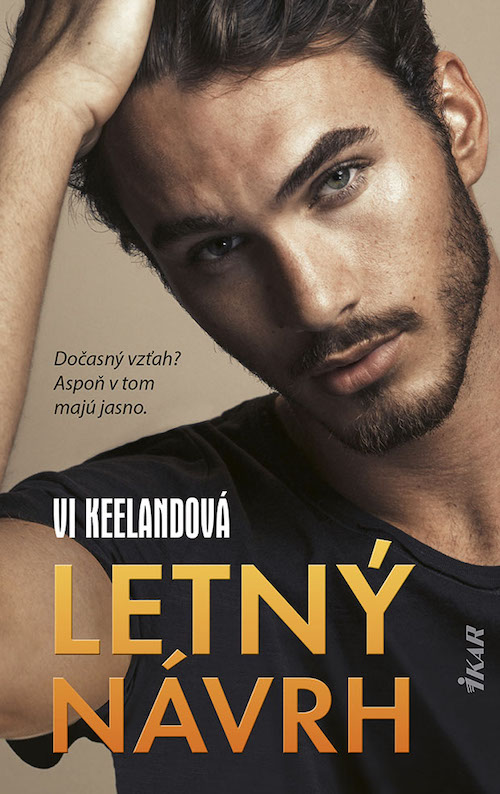 Letný návrh je ďalší osviežujúci a erotikou nabitý príbeh, ktorý je viac ako len hokejová romanca. Klasická ľúbostná zápletka, ktorej však nechýba vtip, inteligentná a milá hrdinka a spočiatku rande naslepo…či skôr nedopatrením. To celé okorenené chémiou medzi hlavnými postavami, ktorú budete milovať a vychutnávať si v každej kapitole.
Emocionálna horská dráha, o láske, priateľstve, rodine a ako napísala jedna čitateľka – tento príbeh vo mne opäť prebudil radosť a chuť z moderných romancí.
"Šik a príťažlivá," zamyslel sa. Naklonil sa a pozrel sa mi na nohy. "V tých sexi lodičkách sa nedá stáť celý deň, takže zjavne pracuješ v kancelárii. Odišla si z práce na rande dosť skoro, zrejme si šéfka a pracovný čas si určuješ sama. Vykašľala si sa na potenciálneho partnera a šla si na hokej, pričom tvrdíš, že o ňom nič nevieš, a ani si netušila, že som hokejista. Takže buď pracuješ v profesii, v ktorej je riziko bežné, alebo v takej, ktorú by si vybral iba optimista."

Autorka Vi Keelandová príde už v máji na návštevu Slovenska, aby sa stretla so svojimi čitateľkami. Môžete sa tešiť na besedu s Vi a samozrejme autogramiádu.

Vi Keelandová je jednou z najpredávanejších autoriek podľa denníkov New York Times, Wall Street Journal a USA Today. S miliónmi predaných kníh sa pravidelne umiestňuje na najvyšších priečkach rebríčkov predajnosti po celom svete. Jej knihy vyšli v 26 jazykoch.
Vo vydavateľstve IKAR od nej vyšli knihy: Šéf (2017), Egomaniak (2018), Žiadnu lásku, len sex (2019), Krásny omyl (2019), Nemali by sme (2020), Nahá pravda (2020), Nevhodné správanie (2021), Rivali (2021), Pozvánka (2022) a Iskra (2022).
Milan Buno, knižný publicista