Zatiaľ čo dôsledky nedostatku spánku na hmotnosť, duševné zdravie a imunitu sú dobre známe, účinky nedostatočného spánku na pokožku a krásu sú známe menej. Existuje niekoľko vedecky podložených výhod kvalitného spánku, ktoré sa odzrkadlia aj na našom zovňajšku.
Naša pokožka využíva spánok na samoliečbu, a keď ho nemáme dostatok, náš vzhľad je toho odrazom.
Ako môže zlý spánok ovplyvniť vzhľad?
Počas spánku sa vďaka zvýšenému prietoku krvi naša pokožka začína obnovovať a produkovať nový kolagén. Je to súčasť procesu obnovy, čím zabraňujeme ochabnutiu, starnutiu a vráskam. Čím viac kolagénu pokožka počas spánku vyprodukuje, tým je menej pravdepodobné, že sa nám vrásky vytvoria.
TIP: Zvážte nákup vankúša z pamäťovej peny. Pružnosť peny sa prispôsobí vašej tvári a nebude tak stláčať pokožku, čím zabránime jej krčeniu počas spánku.
Po nedostatočnom spánku sa zväčša prebúdzame s opuchnutými viečkami a tmavými kruhmi pod očami. Keď sme už vyčerpali všetky krémy na trhu bez akýchkoľvek výsledkov, pozrime sa bližšie na naše spánkové návyky. Dospelý človek by mal spať 6 až 8 hodín. Ak si zaužívame chodiť spať a vstávať v rovnakom čase, náš organizmus si na tento systém navykne a postupne ho začne akceptovať aj bez použitia budíka.
TIP: Skúste spať na chrbte s niekoľkými vankúšmi pod hlavou. Toto zvýšenie zlepší prietok krvi a pomôže zabrániť hromadeniu krvi pod očami.
Naša pokožka využíva čas počas spánku na to, aby sa vyliečila z environmentálnych stresov, ktorým bola vystavená počas dňa. Keď vstúpime do hlbokého spánku, naše telo prejde do regeneračného režimu a produkuje rastové hormóny. Tie vytvárajú nové bunky, ktoré pomáhajú liečiť našu pokožku pred akýmkoľvek poškodením.
Nedostatok spánku môže zabrániť tomu, aby sa naša pokožka úplne zotavila z poškodenia slnkom a môže zvýšiť závažnosť existujúcich kožných ochorení. Dobrou správou však je, že naša pokožka sa dokáže veľmi rýchlo zotaviť s niekoľkými po sebe idúcimi nocami dobrého spánku. Správny spánok tiež podporuje zdravé prekrvenie pokožky, čo má za následok rovnomernejší tón pleti, keď sa zobudíme.
TIP: Počas dňa vypite dostatok vody, aby dobehla vaša pokožka dostatok hydratácie, ktorú zamešká v spánku. Tesne pred spaním sa piť neodporúča, pokojný spánok by vám totiž mohlo narušiť nutkanie na toaletu.
Obmedzený spánok je predpokladom zvýšenia hladiny ghrelínu v našom tele. Ghrelín – tiež známy ako "hormón hladu", je hormón, ktorý stimuluje chuť do jedla, podporuje ukladanie tuku a môže spôsobiť, že budete jesť viac. Spánok je dôležitým regulátorom vášho metabolizmu a telesnej hmotnosti a zlý spánok môže brzdiť odbúravanie tuku, takže je pre nás ťažšie schudnúť.
TIP: Pred spaním jedzte ľahko a zdravo. Konzumácia ťažkých jedál pred spaním môže podporiť priberanie. Medzi potraviny, ktoré si pred spánkom môžete dopriať patrí grep, mrkva a čučoriedky.
Stres a nedostatok spánku idú ruka v ruke. Nekvalitný spánok môže viesť k zvýšeným stresovým hormónom a hormonálnej nerovnováhe. Dosiahnutie spomínaných šesť až ôsem hodín nerušeného spánku, ktoré naše telo potrebuje, môže viesť k tomu, že sa zobudíme bez stresu a vybalansovane.
TIP: Vyčistite si obliečku na vankúš aspoň raz týždenne, aby ste ju zbavili akýchkoľvek baktérií a pozostatkov mejkapu. Pokvapkajte si ju pred spaním olejčekom z materinej dúšky alebo levandule, pôsobia na nás antistresovo.
Nedostatok spánku mení našu náladu. Ráno sa máme cítiť nabití energiou, nie unavene a omámene. Náš deň sa tak zrazu zdá ťažší a úlohy na našom tanieri sa pôsobia ako nekonečné a nesplniteľné. Nespavosť môže tiež ovplyvniť naše sociálne interakcie. Okrem toho čelíme 10-krát vyššej pravdepodobnosti klinickej depresie. Dá sa povedať, že čím lepšie spíme, tým budeme šťastnejší.
TIP: Cvičte jogu alebo strečing pred spaním, aby ste sa po dlhom dni uvoľnili.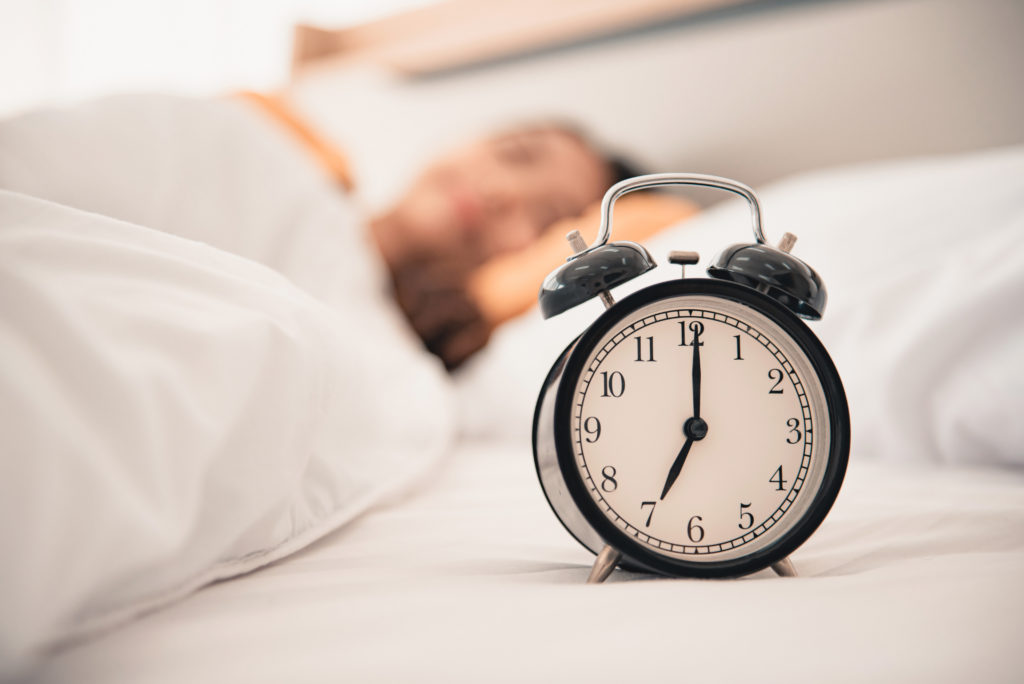 Ak ste jedným z mnohých, ktorí bojujú s nespavosťou, skúste začleniť niektoré z nižšie uvedených tipov do svojej nočnej rutiny, aby ste si precvičili lepšiu spánkovú hygienu.
Desatoro spánkovej hygieny:
Zaužívajte si rovnaký čas vstávania aj zaspávania
Pred spaním odstráňte z pleti mejkap, aby ste ju pripravili na vyplavovanie toxínov
Časté čistenie posteľnej bielizne znižuje tvorbu akné
Nepite pred spaním vodu, aby vám spánok neprerušila potreba na toaletu
Žiadne chipsy pred spaním – slané jedlo pred spaním prispieva k vzniku vačkov pod očami
Zainvestujte do pohodlného matracu pre zdravý spánok
Nepozerajte do telefónu – modré svetlo náš organizmus umelo prebúdza
Postarajte sa o dokonalú tmu v miestnosti
Wifi by nemala byť umiestnená v spálni
Spite pri otvorenom okne, čím väčšia zima je v miestnosti, tým hlbší bude váš spánok
Výskumy ukázali vplyv spánku na:
Známa štúdia zistila, že nedostatok spánku súvisí so zníženou príťažlivosťou. Účastníci hodnotili fotografie ľudí, ktorí mali za sebou noc s nedostatočným spánkom. Výsledky ukázali, že účastníci mali menšiu pravdepodobnosť, že sa budú chcieť stýkať s tými, ktorí vyzerali unavene, pretože boli vnímaní ako menej atraktívni.
Ďalšia štúdia skúmala účinky kvality spánku na starnutie pokožky. Zistilo sa, že zlá kvalita spánku urýchľuje prirodzené starnutie. To zahŕňa jemné vrásky, zníženú elasticitu pokožky a nerovnomernú pigmentáciu. Nedostatok spánku tiež bráni schopnosti pokožky zotaviť sa zo slnečného žiarenia, výsledkom čoho je opäť viac vrások.
Rovnaká štúdia Case Western Reserve University zistila, že tí, ktorí pravidelne trpeli zlým spánkom, boli nespokojnejší so svojím fyzickým vzhľadom ako dobrí spáči. Keď sa zobudíte z úplného nočného odpočinku, je pravdepodobnejšie, že sa budete cítiť lepšie ako niekto, kto spal iba dve hodiny.