Bývalý SuperStarista Tomáš Bezdeda urobil na Silvestra čiaru za svojím mládeneckým životom a požiadal o ruku svoju šarmantnú polovičku Ivanku. Čím si jeho srdce získala krásna Žilinčanka a čo nebude chýbať na ich svadbe, si prečítajte bližšie v našom rozhovore…
Na Nový rok ste oznámili svetu krásnu správu, požiadali ste o ruku partnerku Ivanku, gratulujeme! Predstavíte nám svoju polovičku bližšie? Ako ste sa spoznali?
Ivanka je anjelik. Je veľmi milá, empatická a má skvelé srdiečko. Pochádza zo Žiliny a pracuje pre súkromnú spoločnosť. Obaja milujeme pohyb a sme športovo veľmi aktívni. Spoznali sme sa vo fitku, stretli sme sa a z tohto stretnutia vzišlo krásnych 10 mesiacov spoločného vzťahu, ktoré som sa rozhodol posunúť ďalej…
Hovorí sa, že každý z nás si k sebe nájde takú osobu, ktorá ho má v niečom doplniť alebo pozitívne ovplyvniť. Čo sa učíte jeden od druhého vy?
Ja si nemyslím, že sa protiklady až tak veľmi priťahujú, podľa mňa by mali mať partneri aspoň nejaké základné spoločné aktivity. My napríklad radi trávime voľný čas aktívne na horách. Teda nie je to tak, že keď idem na hory ja, ona ide niekam so svojou partiou a zase naopak, našli sme si v tejto záľube niečo spoločné a myslím si, že takéto zdieľanie je pre vzťah veľmi dôležité. To, že sa dopĺňame v nejakých veciach využívam napríklad v obliekaní. Ivanka má lepší cit pre módu a ja si dám radšej poradiť (smiech).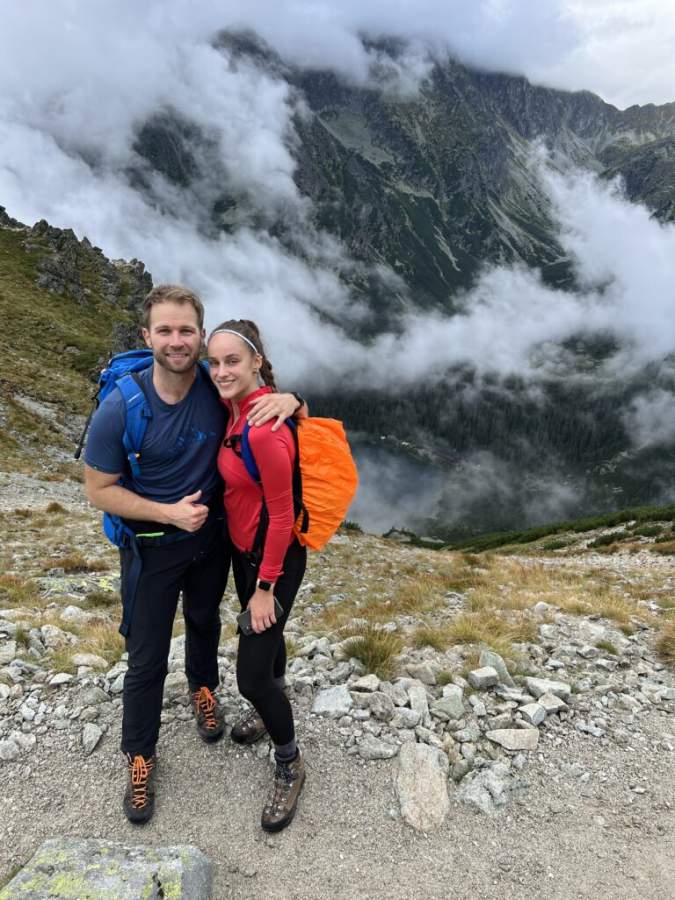 Nájsť si životného partnera nie je jednoduché, obzvlášť popri umeleckej brandži. Ako zvláda Ivanka tlak fanúšičiek?
Nie je to jednoduché, o to viac si vážim, že som k sebe našiel človeka, ktorý akceptuje a chápe moju prácu, pretože v tomto majú umelci všeobecne veľký problém, nájsť človeka, ktorý bude chápať, že je to práca a zároveň aj poslanie. Najmä je to však i uľahčujúce pre toho umelca psychicky. Ivanka je tolerantná a nehádame sa kvôli blbostiam. Všetko spolu komunikujeme. Ja nie som veštec ani ona nie je veštec a človek nevie, čo má ten druhý v hlave, preto je dôležité sa o všetkom, čo cítime, rozprávať a hovoriť si veci narovinu.
Ako prišlo k požiadaniu o ruku? Kde ste sa rozhodli pokľaknúť a prečo práve tam? Doľahol na vás aj stres?
Áno, mal som trochu stres, bol som veľmi dojatý, aj Ivanka bola dojatá. Prišlo k tomu na Silvestra, možno je to klišé, no ja som to tak cítil pred vystúpením, a tak som vošiel do nového roka s takouto vážnou zmenou. Spieval som počas silvestrovských osláv v Tatrách, a keďže som chcel, aby to bolo nečakané, prekvapil som ju, kľakol som si a spýtal som sa jej s prstienkom v ruke, či si ma vezme za muža. Povedala áno (úsmev).
Chystáte sa stihnúť svadbu do roka a do dňa? Čo na vašom dni D nesmie chýbať?
Asi áno, čo budeme čakať, život je krátky a my ho chceme žiť ako rodina. Máme pekné príklady z našich rodín – moji rodičia sú spolu, aj tí Ivankini. Rodina je základ. A čo nebude chýbať? Ivanka má rada Jede jede mašinka, budem mať s tým síce veľký problém, možno budeme pri tejto skladbe rozdávať aj kinedryl (smiech), ale keď si ju želá, nebude chýbať.
Spomínali ste, že obľubujete turistiku. Uvažujete aj nad svadbou v horskom prostredí?
Obávam sa, že na horách sú priestory v chatách veľmi malé a naša rodina je veľká, no každopádne, hory a turistika sú skutočne náš spoločný koníček. Páči sa mi, že Ivanka nie je taký "kávičkový typ", síce aj kávičku si spolu radi dáme. Avšak platí, že sme aktívni. Vyberieme sa aj na Kriváň, na Chatu pod Suchým či Téryho chatu v Tatrách. A musím povedať, že partnerka má dlhé nohy, meria  177 centimetrov, takže, keď dá rýchly krok, mám čo robiť, aby som jej stíhal.
Na vašej spoločnej ceste vám v mene celej redakcie držíme palce. Na záver len posledná otázka pre tých, ktorí zatiaľ stále blúdia, a na svoju polovičku stále nenatrafili. Aj vy ste na tú svoju čakali nejaký ten rôčik. Čo by ste poradili nezadaným na ich ceste za životným partnerom?
Každý sme iný, každý to máme inak nastavené. Čo však zopakujem, a platí to pre všetkých, je neprestať sa rozprávať a komunikovať čokoľvek, čo prežívame. Chlap nevidí žene do hlavy a žena zase chlapovi, a keď veci nepreberú, nemôžu sa pohnúť ďalej. Zároveň si však myslím, že netreba tlačiť na pílu a byť s niekým nasilu len preto, aby sme s niekým boli. Treba si počkať na toho pravého a to už človek prirodzene vycíti…