Prejedanie sa počas sviatkov sa možno nepodpíše zo dňa na deň na našej váhe, avšak nafúknutá a zaliata tvár to ani kontúrovaním neskryje. Od stravy, stresu, zadržiavania vody až po alergie existujú rôzne dôvody, ktoré môžu spôsobiť, že sa nám tvár zavodní. Dobrou správou však je, že nejde o trvalý stav.
Prinášame vám 7 krokov k regulácii zavodnenia prirodzeným spôsobom.
1.
Predstava, že pitie veľkého množstva vody môže viesť k nafúknutej tvári je mýtus. V skutočnosti je to naopak – nedostatočný príjem vody môže spôsobiť nafúknutie tváre. Dehydrácia totiž zapríčiní, že bunky a tkanivá tela absorbujú vodu a držia sa jej.
2.
Jedným z hlavných dôvodov, prečo sa nám tvár zalieva, je vysoký obsah soli v jedle, ktorému dávame prednosť najmä teraz na sviatky. Soľ má tendenciu zadržiavať vodu v organizme, čo spôsobuje opuchy. Myslite na to a teraz už soľte striedmo.
3. 
Pridajte do svojho jedálnička potraviny a nápoje, ktoré sú prírodnými diuretikami – napríklad petržlen, špargľa, zelená listová zelenina a kofeín. Diuretiká pomáhajú zbaviť telo zadržiavania vody močením.
4. 
Prítomnosť draslíka je nevyhnutná na udržanie telesných tekutín v rovnováhe. Snažte sa preto tento minerál, ktorý je súčasťou najmä ovocia a zeleniny, pravidelne zaraďovať do vášho jedálnička. Nájdete ho v zrelých banánoch, broskyniach, sušených slivkách a v paradajkách.
5. 
Doprajte si pravidelnú masáž, ktorá vám pomôže zbaviť sa opuchov tváre. Namažte si tvár hydratačným krémom alebo masážnym olejom na tvár. Zľahka masírujte celú tvár prstami, ktoré vtláčajte do pokožky. Tento proces vám pomôže stlačiť prebytočnú tekutinu v tvári a vstrebávať ju. Samozrejme, môžete použiť aj rôzne dostupné pomôcky – masážne valčeky, gua-shu, no postačí aj tlak prstov.
6. 
Studený obklad na tvár ráno urobí hotové zázraky. Nastavte si budíček o čosi skôr, zalejte kávu, vráťte sa na desať minút do postele, podložte si hlavu aspoň dvoma vankúšmi kvôli prúdeniu krvi a priložte si ľadový obklad na tvár. Ranné opuchnutie zmizne skôr, ako vám vychladne ranná kávička.
7. 
Na zadržiavaní vody v tele sa častokrát podieľa kolísajúca hladina hormónov. U žien sa bežne vyskytujú hormonálne zmeny približne päť dní pred menštruáciou. Hovoríme tomu skratkou PMS (predmenštruačný syndróm). Prejavuje sa jedným či dvoma kilami navyše. Pomôcť si v tom čase môžete pitnými kúrami zmierňujúcimi opuch – kokosovou vodou, zázvorovým čajom, mätovým čajom, žihľavovým čajom či vodou s odšťaveným citrónom.
Vyskúšajte domácu kávovú masku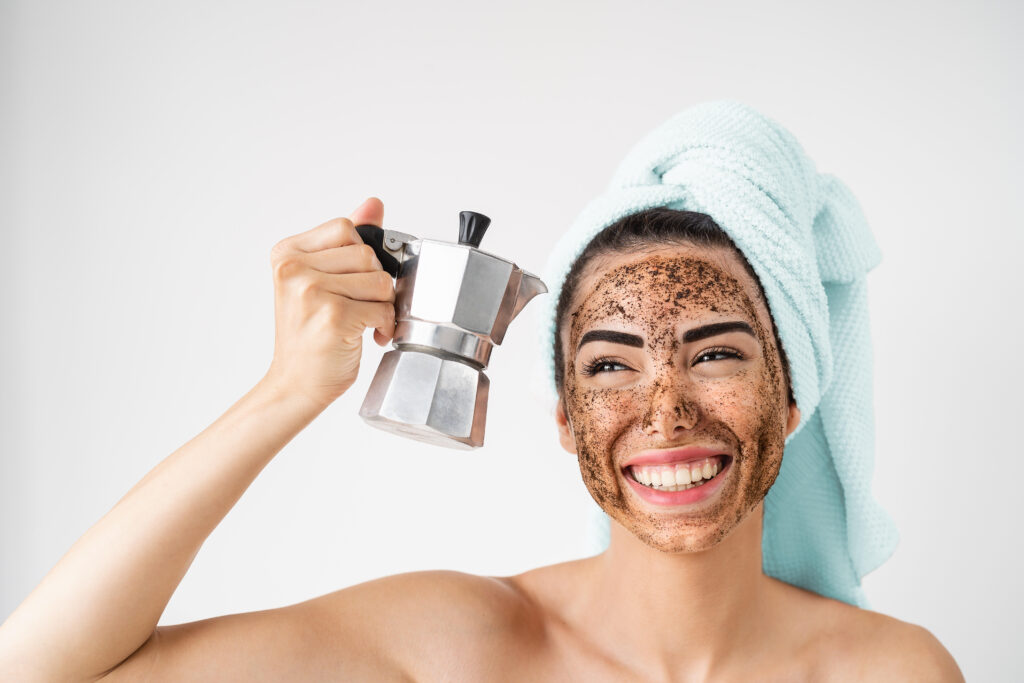 Zavodnenie tváre odráža toxíny a hromadenie vody v lymfatickom systéme. Opuchnutie je znakom toho, že vaša tvár potrebuje urgentnú detoxikáciu. Káva je najlepšou ingredienciou na zníženie opuchov tváre a na stimuláciu lymfatických uzlín, aby sa toxíny vyplavili von. Má neuveriteľný vstrebávací účinok a zároveň znižuje zápal a začervenanie. Pri aplikácii na tvár zužuje lymfatické cievy pod kožou, znižuje opuchy a tmavé kruhy pod očami. Zmiešajte ju s kvalitným medom pre antioxidačný účinok, prípadne s kokosovým olejom a krúživými pohybmi ju vmasírujte do tváre. Nechajte pôsobiť aspoň 20 minút a opláchnite.