Aj keď sa vek u dámy nepatrí prezrádzať, predsa len musíme povedať, že pani Zita Furková už "načala" ôsmy krížik. Napriek svojmu veku je stále herecky a divadelne aktívna. V práci – lepšie povedané, vo svojom hereckom poslaní, nepoľavila, aj keď na to má oficiálne nárok.
Na konte máte množstvo filmov, televíznych a divadelných hier, keď sa obzriete späť na svoju tvorbu, ktoré tvorivé obdobie bolo pre vás tým najkrajším a prečo?
Tvorivé obdobie bolo pre mňa koniec 60. a prvá polovica 70. rokov. Pod vedením Vlada Strniska, Milana Lasicu, Maroša Porubjaka vzniklo generačné zoskupenie hercov v Divadle na Korze na Sedlárskej ulici. Začiatkom 70. rokov odišli z SND Stano Dančiak, Marián Labuda, Paľko Mikulík a z Divadla poézie Zorka Kolínska, Peter Debnár, Ľubo Gregor a ja. Divadlo Korzo na Sedlárskej ulici bolo založené 21. 12. 1968 a zrušené bolo v januári 1971 – v období normalizácie. Zatvorili ho z politických dôvodov, pretože na jar 1968 sme sa nadýchli trocha demokratického vzduchu, pocitu oslobodzujúceho smiechu od ťažoby socialistického realizmu. Ale 21. augusta nás prišli oslobodiť vojská Varšavskej zmluvy. Dramaturgia divadla ako prvé predstavenie uviedla hru Samuela Becketta Čakanie na Godota, ktorého sme sa dočkali potom pri realizáciách ruskej klasiky, ktorá sa nám okrem iných titulov stala osudnou – paradoxne s Gogoľovou Ženbou. Hrala som postavu Fiolky, ktorá mala repliku… Ruské mená sú také, že keď ich počuješ, len sa prežehnáš a odpľuješ si. To bol originálny text N. V. Gogoľa. Podstatné však bolo videnie nášho sveta v polohe satiry, smiechu nad úbohosťou ducha doby. Fantastické bolo to, že sme mali nad ním spoločný zmysel smiechu, humoru, ktorý nám samozrejme, zatrhli. V roku 1971 nás zrušili, prevelili do divadla Nová scéna, kde sme pokračovali pod vedením Vlada Strniska.
Čo z vašej tvorby si najviac vážite vy sama, čo bolo pre vás zásadné, čo vás posunulo dopredu?
Nežná revolúcia 1989 od základu zmenila politicko-spoločenský systém. Nastalo obrodenie, vrátenie demokracie, prebiehali rehabilitačné procesy. Uvedomila som si, že v roku 1971 nám zrušili divadlo, ktoré bolo s budovou na Suchom mýte pridelené Novej scéne. Činohra na Kollárovom námestí sa delila s operetnou časťou súboru. Väčšia časť bývalého Divadla na Korze odišla do SND. Zostali sme torzo z Divadla na Korze – Zorka Kolínska, Maco Debnár, ja a Ľubo Gregor, ktorého sme do činoherného súboru Nová scéna prijali, a prišiel aj Vlado Černý – ako najmladší člen. Dramaturgia pod vedením Vlada Strniska naväzovala na poetiku starého Korza, prichádzali ďalší činoherci Marián Zednikovič, Boris Farkaš a iní. Vždy je dôležitá idea, odhodlanie za ňou ísť. Idea, ktorú som začala realizovať s tímom hercov – obnoviť génius loci starého Divadla na Korze, rehabilitovať ho. Spolu s Ľubom Gregorom a, samozrejme, s hercami, ktorí tvorili základ. Rehabilitáciu a licenciu sme dostali z ministerstva kultúry podpísanú ministrom Ladislavom Snopkom 1. apríla 1990. Vtedy vzniklo Divadlo Korzo ᾿90. Marián Zednikovič – pretože sme boli v starej Astorke, pomenoval divadlo Astorka Korzo ᾿90. Od roku 2005 divadlo úspešne až doteraz vedie Vlado Černý.
Napokon z toho vzišla naša ikonická scéna – určite je to dobrý pocit mať na konte takúto zásluhu – teda byť zakladateľkou divadla Astorka Korzo ᾿90.
Áno, mám dobrý pocit z rozhodnutia ísť a realizovať túto ideu. Fantastické je, že divadlo teraz tvorí mladšia generácia, ktorá nadväzuje na kód starého Korza a obrodzuje ho.
Kritici vás oceňujú ako herečku, ktorá vie výnimočne dobre stvárniť tragikomickosť – akoby ste to mali v génoch. Určite to nie je jednoduché – spojiť dve odlišné polohy… balansovať na hrane tragiky a komiky.
Tragikomickosť je mi blízka, pretože život náš je tragikomický. Smútok a smiech sa niekedy prelínajú, spájajú a očisťujú nás plačom a smiechom.
Niekomu by napadlo, či tú tragikomickosť nečerpáte aj zo svojho života?
Herci si tragikomickosť uvedomujú pozorovaním človeka vo svete a života v ňom. Uvedomovať si človeka je poslanie herca. To je podstata našej tvorby.
A, áno, čerpám tragikomickosť aj zo svojho života.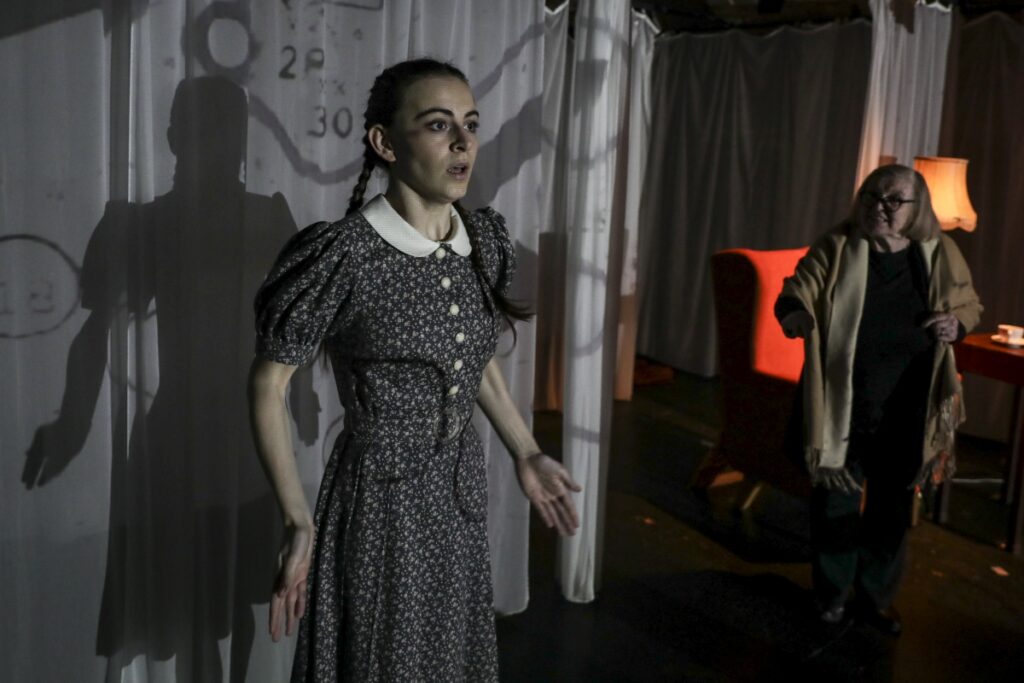 Čo vám dalo herectvo, čím vás obohatilo?
Dalo mi tú dimenziu poznávať a uvedomovať si pravdu. A to nielen hľadaním pravdy iných, ale hľadaním aj v sebe, čo je niekedy stresujúce.
Povolanie herečky je veľmi náročné, čo ste museli vy tak povediac priniesť na oltár, čo ste zo súkromného života museli obetovať, aby ste boli na hereckom výslní?
Je takisto náročné ako každé povolanie, v ktorom sa človek chce zmysluplne realizovať. A ešte dodám, že to spomínané výslnie, ktoré nám možno mnohí závidia, je aj nebezpečné, pretože sa môžete spáliť.
Ako herečka ste zaujímavá aj tým, že ste si trúfli na réžiu. Takých herečiek nie je veľa. Určite to chce iný pohľad, akési celostné uvažovanie, na rozdiel od hereckej roly.
Nie je to trúfalosť, pretože podstatou réžie je herectvo. Vždy je dôležitá téma, čo ňou tvorca chce povedať. Pravda je ale, že réžia je najzložitejšia, pretože pracujete so živým organizmom – človekom. Môžem to potvrdiť vlastnou skúsenosťou.
Stále ešte hráte, kde beriete energiu, čo vás poháňa stáť na divadelných doskách?
Chcem sa vyjadriť k dianiu vo svete. To ma zaväzuje, keď si uvedomím bezmocnosť človeka voči mocným. Srdečne vás pozývam 21. februára, 6. marca a 16. apríla na predstavenie Jeden nemecký život do Štúdia A2, ktoré sídli na Mickiewiczovej číslo 2. Je to autentický príbeh 102-ročnej Goebbelsovej sekretárky Brunhildy Pomselovej. Na tomto predstavení si človek uvedomí, že všetko sa opakuje a človek je nepoučiteľný. Takýchto sekretárok je veľmi veľa medzi nami.
VIERA MAŠLEJOVÁ
Foto: Ctibor Bachratý