Do Diagnostického centra prichádza mladý pár z juhu Slovenska a v náručí nesú 10-mesačné dieťatko Vanesku. Terapeutka Vojtovej metódy Zuzka Komárová víta rodinku ako starých známych. Do ADELI totiž prvýkrát prišli, už keď bábätko malo jeden mesiac a odvtedy sem chodia pravidelne. Ľavá Vaneskina rúčka bola poškodená pri komplikovanom pôrode a títo rodičia urobili dobre, lebo hneď od začiatku začali s dcérkou cvičiť. Neokladali to na "potom".
Pôrodné zranenia nemusia byť badateľné, ale pre vývin dieťaťa sú určujúce. Napríklad zlomenina kľúčnej kosti alebo krvácanie do svalu kývača hlavy, spôsobuje stuhnutie svalu, nepohyblivosť a stočenie hlavičky. Následkom môže byť, že bábätko dokáže vytočiť hlávku len k jednému prsníku. Stočenie hlavičky len na jednu stranu, ako maminy dobre vedia, má za následok splošťovanie lebky. Ale nielen to. Bez rehabilitácie hrozí nerovnomerný vývoj celého tela s neopraviteľnými následkami. Podľa slov fyzioterapeutov z ADELI centra Piešťany je možné, že nedostatok personálu v nemocniciach spôsobuje, že pacienti nedostávajú dosť pozornosti a lekári nemajú na pacienta toľko času, ako by si sami želali. Vaneskiných rodičov znepokojili vyjadrenia personálu v pôrodnici o tom, že na ľavú ruku dievčatka môžu "zabudnúť" a k problému sa okamžite postavili konštruktívne. Rozhodli sa "Vojtovku" cvičiť v ADELI. "Rodičia by mali byť informovaní o poraneniach hlavových a periférnych nervov pôsobením mechanických síl, ktoré vznikli počas vedenia pôrodu. Na druhej strane, zodpovednosť za dieťa majú rodičia. Dieťa môže a nemusí mať krvnú podliatinu, určite však má bolesti. Ak je problém zamlčovaný alebo, ak sa banalizuje, stráca sa cenný čas na rehabilitáciu. Ak však rodičia prídu včas, cvičením a masážami sa podnieti vývoj postihnutej oblasti," hovorí terapeutka Zuzana Komárová. "Rovnomerné používanie oboch horných končatín je dôležité pre správny psychomotorický vývoj dieťaťa. Malá Vaneska už dnes trénuje štvornožkovanie so zapájaním oboch rúk. Bez rehabilitácie by však mala ručičku zrejme nefunkčnú a ťahala ju za sebou," upozorňuje skúsená terapeutka.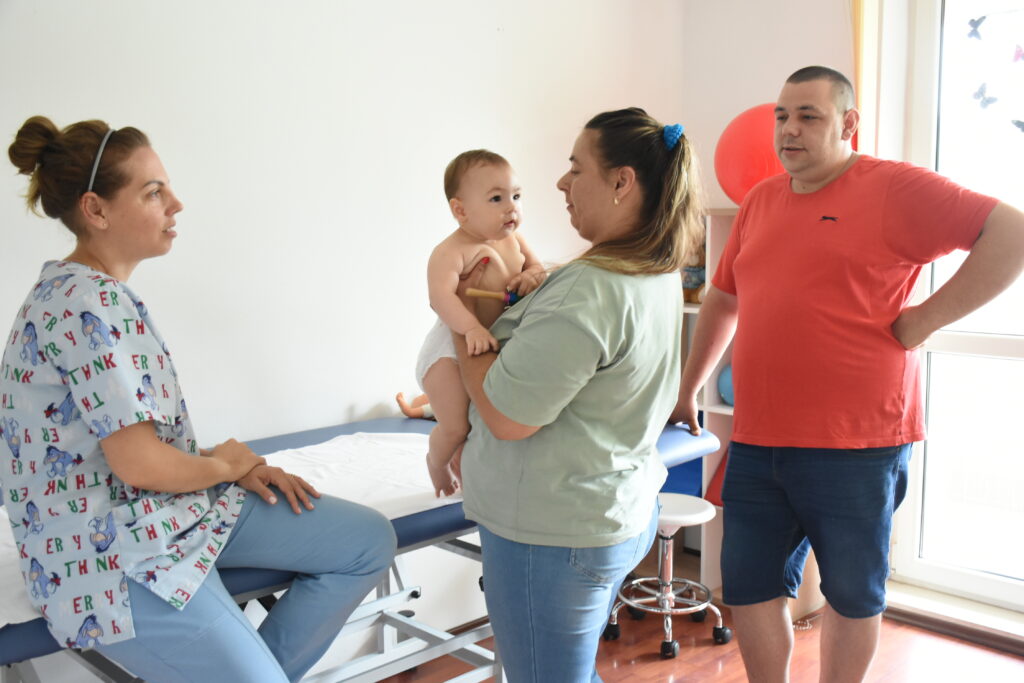 Odkladaním dieťa veľa stratí
Mozog dieťaťa sa najrýchlejšie vyvíja počas prvého roku života, preto je nutné aj čerstvo narodenému dieťaťu venovať zvýšenú pozornosť, a to hneď, nie neskôr. Stimuláciou nervového systému na neurorehabilitácii môžeme zabrániť trvalému poškodeniu a zlepšiť perspektívu dieťaťa do dospelosti. "Informácie o správnom vývine pohybových a rozumových schopností sú všeobecne dostupné. Existujú tabuľky vývinových štádií mesiac po mesiaci, ktoré vypracovali odborníci," apeluje na rodičov PhDr. Nataša Haringová, fyzioterapeutka oddelenia BabyMed v ADELI. Rodičom odporúča, aby boli vnímaví na upozornenia lekárov, ktoré sa týkajú porúch centrálneho nervového systému. "Konštatovanie, že bábätko je hypotonické alebo hypertonické, teda, že má slabé alebo silné svalové napätie, treba brať vážne a s dieťaťom treba začať primerane individuálnym potrebám, avšak okamžite cvičiť," dopĺňa Nataša Haringová.
Ohrozené "predčasniatka"
Vaneska z východu Slovenska sa narodila v apríli 2020 predčasne, v 27. týždni. Začiatok života strávilo drobné bábätko samo na JIS-ke, keďže kvôli pandemickej situácii mali rodičia na oddelenie obmedzený prístup. Hoci si nevedia vynachváliť prístup personálu, faktom je, že rehabilitáciu neurológ neodporúčal. Avšak, keď mala Vaneska sedem mesiacov, rodičia si všimli, že je menej obratná a motoricky začala zaostávať za ostatnými bábätkami. Nasledovali rôzne vyšetrenia, až napokon stanovili diagnózu: DMO – detská mozgová obrna, centrálna tonusová porucha, spastická kvadruparéza, keď sú obrnou postihnuté všetky končatiny. Rodičia s rehabilitáciou začali všestnástich mesiacoch. S Vaneskou chodia na rehabilitačné pobyty do ADELI. Odvtedy dievčatko napreduje – udrží vzpriamene hlavičku a začalo sa aj obracať. Otvorí zopäté dlane a vymieňa si hračky z ruky do ruky. Intenzívnou rehabilitáciou sa stimuluje zrenie centrálnej nervovej sústavy, ako aj svalov celého tela. Posilnením chrbátika by mala Vaneska začať skoro sedieť a potom sa dvojročné dievčatko začne učiť chodiť. "Je mi ľúto, že sme nezačali cvičiť skôr. Bola som prvorodička, odkázaná na informácie z internetu," povzdychne si mama. Dnes je pre túto rodinu najdôležitejšie, aby Vaneska napredovala. Treba povedať, že sa im to darí a inteligentné dievčatko na rehabilitácii výborne spolupracuje.
Spracovala: VIERA MAŠLEJOVÁ
Foto: ADELI Piešťany