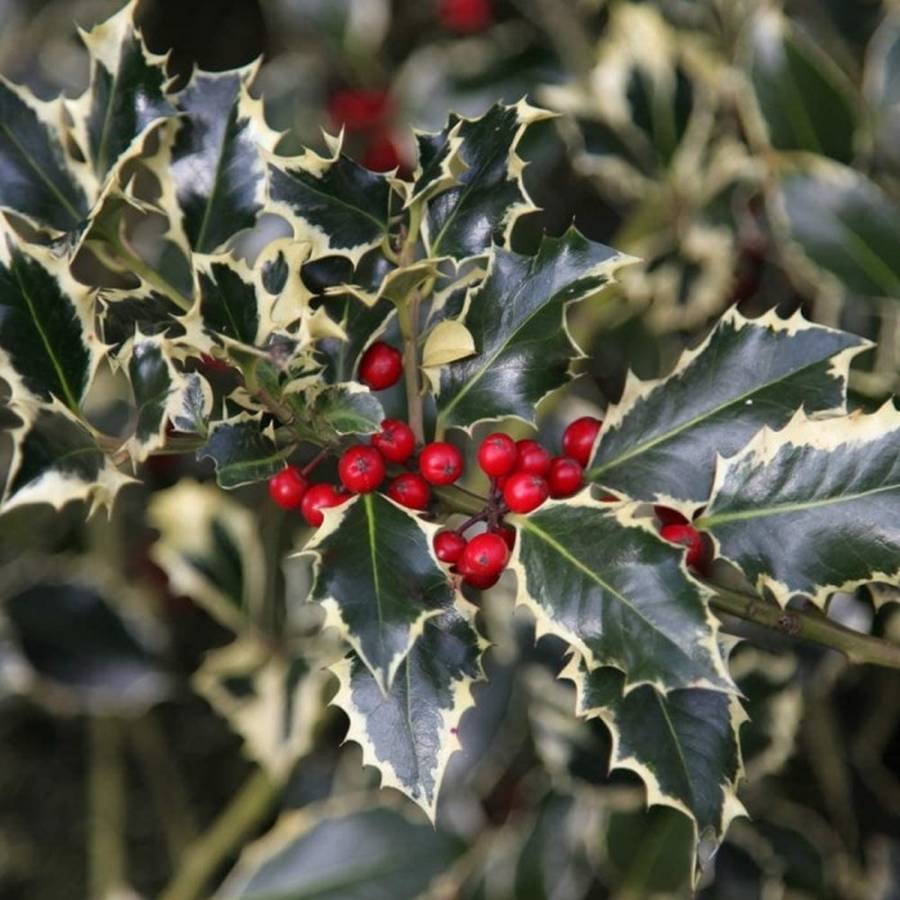 Záhradu vám vlastne bude cezmína zdobiť celý rok, no počas adventu, keď je v záhrade už trošku smutnejšie, svojimi krásnymi listami a žiarivými čerenými plodmi ako magnet pre vaše oči.
Pôvodnou domovinou cezmíny je okrem Európa, severná Afrika a Japonsko. Samičie rastliny majú červené, čierne alebo modré plody. Ak si na nich nepochutnajú vtáčiky, vydržia na kríkoch od septembra až do marca. Na pôsobivom vzhľade rastlín sa podieľajú lesklé, až voskové listy – majú zelenú farbu, niekedy s bielymi alebo žltými škvrnami či lemovaním. Väčšina kríkov je neopadavá, nájdeme však medzi nimi aj opadavé druhy, na ktorých o to viac vyniknú ich plody, ktoré sú častou využívané v dekoráciách. Avšak pozor! Pre ľudí sú plody veľmi jedovaté, ak si teda cezmínu zaobstaráte, dávajte pozor na deti a aj domácich miláčikov. Príznaky otravy sa môžu dostaviť už po dvoch zjedených bobuliach!
Vypestujte si vlastnú
Cezmíny dorastajú do výšky okolo piatich metrov, ale pravidelným zostrihom ich môžete udržiavať v ľubovoľných rozmeroch. Cezmína znáša rez veľmi dobre, preto sa hodí na tvarovanie živého plotu a vďaka svojmu vzhľadu i pre okrasu záhrady.
Aby mala plody
Ako docieliť, aby cezmína kvitla a mala plody? Nutnosťou je vysadiť samčiu aj samičiu rastlinu. Nemusíte ich pestovať tesne vedľa seba, môže medzi nimi byť vzdialenosť až dvadsať metrov, no jedna bez druhej sa nezaobídu. Táto rastlina vám vydrží veľmi dlho, dožíva sa totiž aj tristo rokov, o to pomalšie však rastie. Cezmíny sa množia odrezkami. Na odber mladých odrezkov je najvhodnejšou dobou máj, staršie vetvičky odrezkujte na prelome júna a júla, a to včas ráno, kým je ešte rosa. Následne ich vložte do igelitového vrecka alebo do zatienenej nádoby. K výsadbe použite rašelinu. Cezmína je relatívne nenáročná rastlina, uvíta humóznu a kyslú pôdu. Vyberte pre ňu tienisté stanovište alebo polotieň; v lete znáša sucho pomerne dobre, ale vadí jej slnko v zimnom období. Je to jediný dôležitý nárok, ktorý cezmína má. Veľmi sa tiež hodí do mestského prostredia, nevadí jej totiž znečistený vzduch.
Cezmína "jedlá"
Zimné obdobie zvláda v našich zemepisných šírkach väčšina druhov bez problému. K mladým výhonkom prisypte mulčovaciu kôru, ktorá zabráni nadmernému vlhku a uchráni korene a kmienok pred mrazmi. Zimná prikrývka neuškodí ani starším rastlinám. Na svete existuje asi šesťsto druhov cezmín a všetky až na jednu výnimku majú jedovaté plody. Onou výnimkou je Cezmina paraguajská (Ilex paraguarinensis). Určite poznáte čaj, ktorý sa pripravuje z lístia tejto rastliny – má liečivé aj povzbudzujúce účinky a obsahuje kofeín. Používa sa preto ako zdravšie alternatíva kávy, má veľa minerálov a vitamínov. Pestuje v severnej Argentíne, severnom Paraguaji a južnej Brazílii. Rastie väčšinou v blízkosti riek, vyhovuje jej totiž vlhké počasie a výdatné dažde. Ako prvý ju spracovávali indiáni kmeňa Guaraní a neskôr sa prostredníctvom španielskych kolonizátorov čaj dostal až do Európy.
Obyčajná či s ostrými listami?
Asi najznámejším a súčasne najviac pestovaným druhom u nás je cezmína obyčajná, ktorá má tuhé, tŕnito-zubaté a lesklé listy. Jej plody sú červenej farby. Vhodným stanovišťom pre tento druh cezmíny sú strany budovy, ktoré sú v závetrí. Je náchylnejší k namŕzaniu, ale aj po namrznutí sa dokáže veľmi rýchlo spamätať.
Nie je cezmína ako cezmína
Ďalším zaujímavým druhom je cezmína vrúbkovaná (Ilex crenata). Rastie veľmi pomaly a na rozdiel od iných cezmín má plody sfarbené do modročiernej farby. Dosahuje tiež menšej výšky, približne dvoch metrov. Cezmína ostrolistá (Ilex aguifolium) môže mať plody sfarbené dočervena alebo dožlta, záleží, akú odrodu budete pestovať. Tiež dosahuje väčších rozmerov, ktoré sa šplhajú až do výšky desať metrov. Podobná cezmíne je aj mahónia cesmínolistá (Mahonia aquifolium), ktorá má modré bobule. Listy má vajcovité, pichľavé a ľahko zvlnené. Hoci má podobný vzhľad i názov, medzi cezmíny priamo nepatrí. Jedná sa o iný druh. Občas sa môže stať, že sa na na žíhanom exempláre rastliny objaví aj vetvička s plno zelenými listami. Aby sa nerozšírili po celej rastline, vetvičku s týmito listami pre istotu jednoducho odstrihnite.
Dekorujte v súlade s prírodou!
Cezmína sa veľmi často využíva ako dekorácia na Vianoce, dáva sa do rôznych aranžmánov a väzieb, zvlášť v anglofónnych krajinách. Môžete si ju aj usušiť, nestráca svoju farbu ani plody. Zaveste ju na stenu, použite do vianočného venca alebo len do vázy miesto kvetín. Vďaka svojmu vzhľadu vytvorí pravú vianočnú atmosféru. Vetvičky cezmíny dobre vyzerajú aj na vianočnom stromčeku. Odstrihnite si malé vetvičky aj s plodmi a nechajte ich doma zavesené za stonke, kým neuschnú. Vyberte skôr tienisté miesto, kde sa plody ani listy nevybielia. Ihlou urobte do stonky dierku a tou prevlečte háčik, ktorý používate na vianočné ozdoby. Potom už môžete zdobiť nielen stromček, ale aj ihličia vo váze alebo celý byt.