Krása bola v starovekom Grécku mimoriadne dôležitá, a to nielen pre ženy, ale aj pre mužov. Starí Gréci ako obdivovatelia krásy kládli veľký dôraz na zdravú pokožku a prirodzene vyvinuli mnoho užitočných, prirodzených tipov na krásu.
Prírodná kozmetika bola široko a pravidelne využívaná nielen pre fyzický vzhľad, ale aj pre udržanie zdravia pokožky a tela a s tým spojenú pohodu ducha. Miestne ženy odjakživa zdokonaľovali svoju krásu pomocou bežných ingrediencií ako mlieko, med a olivový olej, ktoré máme dodnes k dispozícii.
Olivový olej ako zvlhčovač
Starovekí Gréci používali olivový olej ako súčasť svojho úsilia o zdravý život a podporu dlhovekosti, zároveň ho využívali ako kozmetiku na pokožku a vlasy. Dnes je grécky olivový olej často považovaný za najlepší na svete a ideálny na domáce kozmetické procedúry. Staroveké Grékyne ako prvé používali olivový olej ako zvlhčovač, keďže pomáha revitalizovať suchú pokožku a prispieva k procesu obnovy buniek. Dnešné moderné ženy sa neboja miešať ho aj s cukrom alebo soľou a použiť ako peeling. Olivový olej dodáva pokožke lesk a zdravý vzhľad a tiež presne potrebnú trochu žiarivej farby.
Med na podporu čistenia
Med má dlhú históriu používania v kozmetike, ženy ho vždy používali na výrobu pleťových masiek alebo telových peelingov. Med má upokojujúce vlastnosti a dodnes sa používa pri ošetrovaní rán. Med pre svoje antibakteriálne a protizápalové vlastnosti pomáhal aj pri niektorých typoch akné.
Jogurt na upokojenie
Grécky jogurt je zázračná ingrediencia, pretože upokojuje a vyživuje pokožku. Je známe, že poskytuje úľavu pokožky po spálení slnkom. Grécky jogurt, ďalší prírodný zvlhčovač, obsahuje probiotiká, bielkoviny, vitamíny a minerály, vďaka čomu je skvelý aj ako maska ​​proti starnutiu pokožky. Jogurt je dobrý aj na jej upokojenie, pretože revitalizuje a robí zázraky v prípade ekzémov.
Morská soľ na exfoliáciu
Starovekí Gréci spolu s Egypťanmi boli známi používaním morskej soli na exfoliáciu pokožky. Zmiešala sa s olivovým olejom a pôsobila ako hydratačný prírodný peeling.
Mlieko na jemnú pokožku
Mlieko — od kráv, kôz alebo somárov — má skvelé zmäkčujúce vlastnosti a v starovekom Grécku bolo široko používané. Bol to však luxus, ktorý si v tom čase mohli dovoliť len bohatí. Ľudia používali mlieko od oslov na kozmetické a zdravotné účely už od staroveku. Pramene uvádzajú, že egyptská kráľovná Kleopatra, známa svojimi rozsiahlymi kozmetickými procedúrami, sa kúpala v oslom mlieku, aby jej pokožka zostala jemná a žiariaca. Hovorí sa, že jej pravidelne napúšťali vaňu mliekom 700 somárov. Staroveký rímsky básnik Ovídius dokonca odporúčal ženám používať oslie mlieko na tvár, aby zlepšili zdravie a vzhľad pokožky.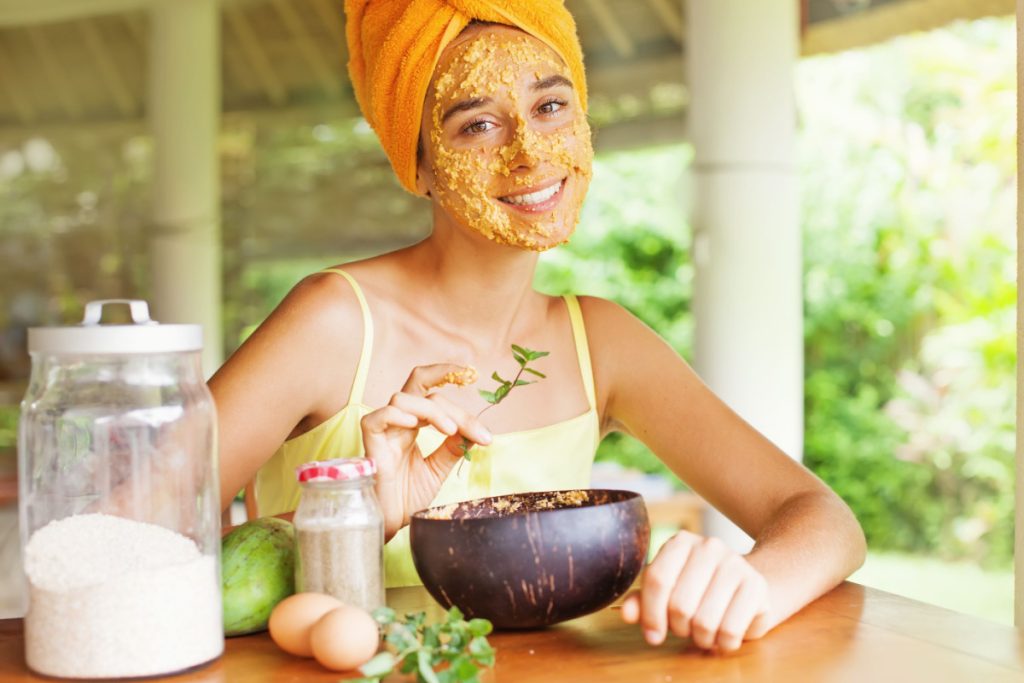 Nemusíte sa však obávať, určite vám nejdeme odporúčať kúpeľ vo vani plnej oslieho mlieka. Trochu nepraktické, v našej rýchlej dobe. Čo ale spraviť môžete, je vyskúšať jednoduché recepty z ingrediencií zastúpených v slnečnom Grécku. Pochutíte si vy, aj vaša pleť:
1.Skombinujte 2 lyžičky medu s pol lyžičkou kurkumy a štetcom aplikujte tenkú vrstvu zmesi na tvár na 15 minút.
2. Alternatívne skombinujte 2 lyžičky jogurtu s lyžičkou medu a tenkú vrstvu nechajte pôsobiť na tvári po dobu 20 minút.
3. 4 lyžičky olivového oleja skombinujte s lyžičkou medu. Zmes preneste do fľaštičky s kvapátkom a vždy večer pred spaním aplikujte na pleť 3-4 kvapky.