Keď vyslovíme slovo modelka, pred očami nám automaticky vybehne obraz vysokej štíhlej ženy so súmernými črtami tváre. Nuda, nuda, nuda. Krása nie je uniformná a už vôbec nie je typická. Nájsť ju môžeme všade naokolo a v každom jednom človeku. Stačí sa správne dívať. Modelky, ktoré sú momentálne na vzostupe sú toho živým dôkazom.
Inkluzívna revolúcia
Módna agentúra Zebedee na ľuďoch, ktorí sú niečím výnimoční a sú inak obdarení postavila svoje podnikanie, v ich portfóliu sa nájdu všetci, ktorí sú "iní", to znamená úplne všetci ľudia tejto planéty. Ich odkaz je nesmierne dôležitý a je potrebné šíriť ho ďalej. Svetoví módni agenti prišli s myšlienkou, že nakoľko až 20% ľudskej populácie žije s postihnutím, menej či viac viditeľným, je nutné spoločnosti poskytnúť reálny pohľad a do módnych kampaní zapojiť naozaj všetkých. Zoznámte sa sa s modelkami a modelmi súčasnosti.
Ellie Goldstein a Beth Matthews
Módny dom Gucci už v minulosti spolupracoval s modelkou, ktorá má Downov syndróm Ellie Goldstein a momentálne v jej šľapajách ide ďalšia mladá žena, Angličanka Beth Matthews (22), ktorú inšpirovala práve Ellie. Mama modelingovej nádeje Beth pani Matthewsová pre médiá povedala, že "už bolo "načase", aby boli ľudia so zdravotným postihnutím viac zapájaní. Konečne nastáva inkluzívna revolúcia a som veľmi rada, že moja dcéra bude jej súčasťou. Keď sa Beth narodila, bola to dosť negatívna skúsenosť a bolo nám povedané, že naše životy budú dosť ťažké. V skutočnosti bol opak pravdou. Myslím si, že sme zažili chvíle ako každý rodič s malým dieťaťom, batoľatami, ale celkovo naša Beth vždy prekonala očakávania."
Chýbajúci kolagén a Sara Geurts
Hoci má Sara len 26 rokov, vyzerá oveľa staršie. Môže za to Ehlers-Danlosov syndróm, ktorý bráni produkcii kolagénu zodpovedného za elasticitu pokožky. V škole sa Sara zahalovala a za svoj stav sa hanbila. V roku 2015 však našla odvahu čeliť svetu, aby podporila ženy, ktoré sa negatívne prirovnávajú k stereotypom ideálnej krásy. Za tento odvážny krok môže byť na seba hrdá.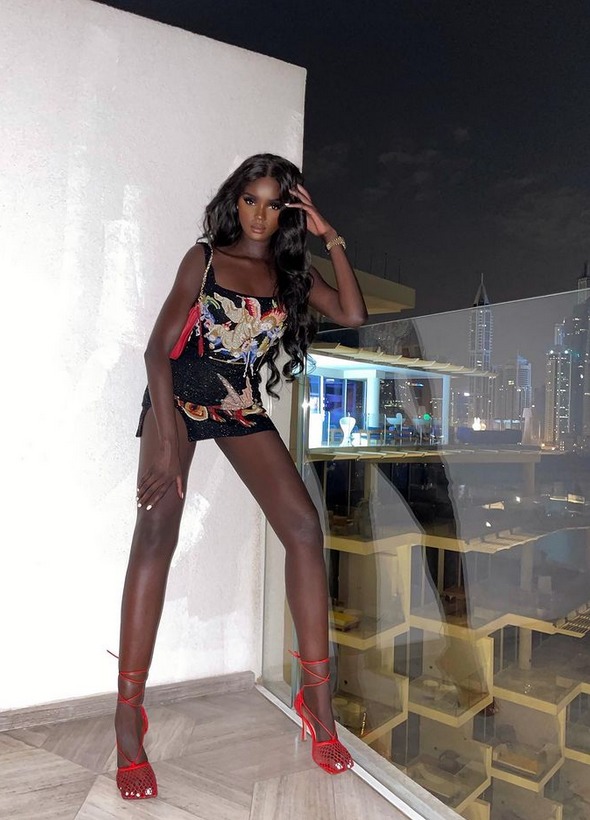 Barbie menom Duckie
Modelka Nyadak Thot z Južného Sudánu, známa ako Duckie, sa veľmi podobá na bábiku Barbie. Aj keď je to zvláštne, práve jej ideálne črty spôsobili, že keď mala len 17 rokov, na internete zažila zneužívanie. Keď vyhrala prvé miesto v súťaži Next Top Model v Austrálii, bola obvinená z neprirodzeného vzhľadu. "Ľudia budú o vás vždy hovoriť zlé veci, ale ich názory nedefinujú, kto ste," povedala pre médiá modelka.
Mačacia Caitin Stickels
Caitin sa narodila so syndrómom mačacích očí, vďaka čomu vyzerá inak ako väčšina ľudí. Keď videl fotograf V Magazínu Nick Knight jej fotky na Instagrame, bol tak ohromený jej vzhľadom, že ju pozval na fotenie. "Nikdy som nesnívala o tom, že budem modelkou. Móda ma vždy bavila z diaľky," hovorí Caitin. Teraz má možnosť spolupracovať s niektorými z najznámejších mien v biznise.
Z akné spravila svoju výhodu- Cassandra Bankson
Cassandra trpela akné už od malička. Kožná choroba, ktorú zažije v istom období života väčšina populácie, pokrýva jej tvár, hrudník a chrbát. Pre posmešky, ktorým čelila od spolužiakov, musela dokonca odísť zo školy. Jedného dňa sa však rozhodla vziať osud do vlastných rúk, vytvorila si kanál na YouTube a začala odhaľovať príbeh svojho boja proti akné. Stala sa veľmi populárnou a čoskoro dostávala ponuky na prácu v modelingu. Cassandra chce na vlastnom príklade ukázať, že človek môže byť krásny bez ohľadu na svoje fyzické nedokonalosti.
Vitiligo a Darius Vernon
Darius Vernon trpí vitiligom, stavom, kedy sa na koži objavujú škvrny bez pigmentu. Dlhé roky sa mu kvôli tomu vysmievali a takmer spáchal samovraždu. Jedného dňa si však uvedomil, že nie je možné, aby sa páčil všetkým. Dariusovi sa podarilo stať sa veľmi žiadaným modelom a teraz má možnosť všetkým ukázať, že krása má mnoho rôznych podôb.