Kde sú tie časy, keď sa lyžovanie spájalo s najbližšou pomou v meste… Globalizácia a cestovanie zasiahli aj lyžiarsky šport. S trochou informácií sa aj napriek tomu môžeme vydať na skutočne svetovú lyžovačku. Pýtate sa kam? Čítajte!
Val Gardena, Taliansko
Rovnakú svetovú úroveň lyžovania ako v susednom stredisku Dolomitov Cortina D'Ampezzo, ale bez pozlátky a premrštených cien, ponúkajú dedinky Val Gardena. Môžete sa tu tešiť na neformálnejší, ale o to autentickejší zážitok. 160 kilometrov tratí a vlekov vo Val Gardene sa spája s tými medzi vrcholmi Gruppo del Sella, čím vzniká takmer 400 kilometrov vzájomne prepojených lyžiarskych tratí, ktoré zahŕňajú aj ľadovec Marmolada. Takmer dve tretiny terénu Val Gardeny sú určené pre pokročilých a skúsených lyžiarov, čo je jedno z najvyšších percent v Dolomitoch. Začínajúci a stredne pokročilí lyžiari si však ešte stále môžu užiť viac ako 130 kilometrov, čo tiež nie je málo. V dedinách Ortisei, Santa Cristina a Selva Val Gardena nečakajte rušný nočný život, ale nebude vám chýbať. Namiesto toho tu nájdete relaxačnú a priateľskú atmosféru autentickej alpskej pohostinnosti, ako aj malé chatky a tradičné hostince, ktoré ponúkajú miestnu kuchyňu. Ľudia sem prichádzajú za lyžiarskymi zážitkami, ako je napríklad zlyžovanie štyroch zjazdoviek, na ktorých sa konajú preteky majstrovstiev sveta v zjazde a obrovskom slalome mužov a žien s priemerným sklonom viac ako 25 percent. Nová trať La Ria určená len pre najskúsenejších, ktorá začína od lanovky Dantercepies, má miestami sklon až 52 percent. Spolu s dostatkom prírodného snehu a najmodernejšou úpravou je infraštruktúra vo Val Gardena špičková. 81 vlekov zahŕňa prvú taliansku osemmiestnu sedačkovú lanovku s vyhrievanými sedadlami na Piz Sella, ktorá ponúka priame spojenie s trasou Sellaronda. Val Gardena je zároveň súčasťou skipasu Dolomiti SuperSki, ktorý umožňuje prístup do 11 ďalších stredísk v regióne. Už sa balíte?
St. Moritz, Švajčiarsko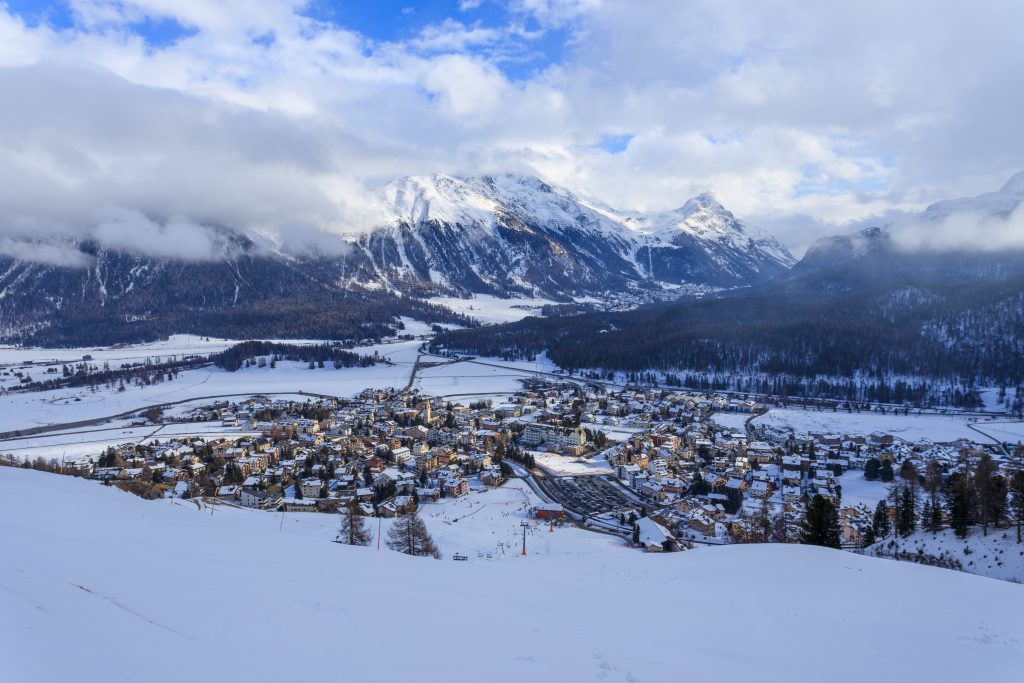 Množstvo svetových lyžiarskych súťaží, ktoré sa tu konalo, by vám mohlo povedať niečo o tomto slávnom stredisku- toto je lyžovanie svetovej úrovne. V rokoch 1928 a 1948 sa tu konali zimné olympijské hry a na jeho olympijskom skokanskom mostíku môžete dodnes často vidieť preteky. Je tu však veľa lyžiarskych terénov aj pre neolympionikov. St. Moritz je známy svojimi dlhými stredne ťažkými zjazdovkami a ďalšími vynikajúcimi stredne náročnými terénmi a s viac ako 20 vlekmi, z ktorých si môžete vybrať, nájdete tu zjazdovky všetkých úrovní. Nad mestom St. Moritz, kam sa pohodlne dostanete lanovkou z Corviglia, sa vám otvorí nádherný výhľad na Alpy. St. Moritz je jedným z prvých európskych zimných stredísk – niektorí tvrdia, že prvé – a stále oslovuje zámožnú klientelu a ponúka luxus. Okrem lyžovania sa tu dá robiť veľa vecí- korčuľovanie, sánkovanie, severské lyžovanie, bobovanie a kite lyžovanie. Aktuálne sa v stredisku koná podujatie St. Moritz Ice Cricket, ktoré pripadlo na 17. – 19. februára 2022.
Kitzbühel, Rakúsko
Ak sa na lyžovačku plánujete dopraviť čo najrýchlejšie a najpohodlnejšie, nevídané možnosti ponúka aj naše susedné Rakúsko. Opevnenú dedinu Kitzbühel nájdete v rakúskych Alpách, neďaleko Innsbrucku a Salzburgu. Hoci v jeho farebných budovách s freskami sídlia luxusné hotely a drahé obchody, rovnako ako v Cortine alebo St. Moritzi, Kitzbühel víta aj rodiny a cestovateľov s nižším rozpočtom v malých rodinných penziónoch. Na 170 kilometroch zjazdových tratí v Kitzbüheli a v priľahlom lyžiarskom stredisku SkiWelt, kde ďalších 280 kilometrov obsluhuje 90 vlekov, nájdete niečo pre všetkých lyžiarov. Každoročne sa tu koná najnáročnejší zo všetkých zjazdových pretekov, notoricky známy Hahnenkamm, v teréne strmom miestami až 85 percent. Malý areál Bichlalm je zas špeciálne navrhnutý pre jazdcov a freestylerov. Kitzbühel a SkiWelt sú prepojené autobusom a obe sú súčasťou AllStarCard, ktorá zahŕňa deväť rôznych lyžiarskych oblastí v Rakúsku.
Aspen Snowmass, Colorado, USA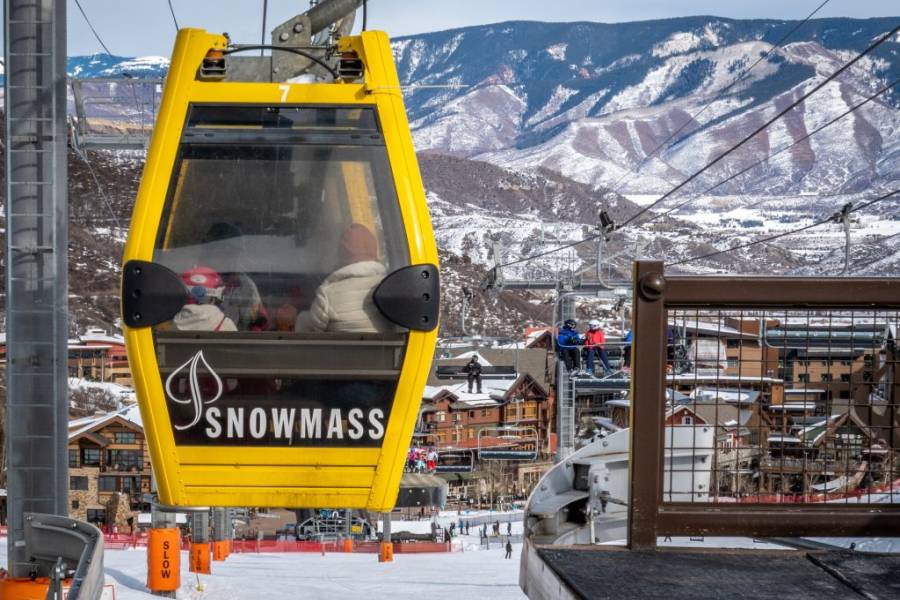 Pre tých, ktorých omrzela Európa, sme hľadali aj za oceánom. Štyri hory, ktoré tvoria Aspen Snowmass, sú zlatým štandardom amerického lyžovania. Aspen Mountain, Aspen Highlands, Buttermilk a Snowmass majú každý svoj vlastný charakter, a preto väčšina lyžiarov navštívi každý deň svojej návštevy inú horu. Ak sa preslávený nočný život pretiahne príliš dlho, aspoň ostane príležitosť užiť si čerstvý "menčester" pre tých, ktorí nevyspávajú. Lyžiarska škola svetovej triedy môže deti zabaviť, zatiaľ čo mama a otec si môžu vychutnať dekadentné potešenie z jázd na lanovke- gondole zhora nadol alebo známe posedenie v Cloud 9 Bistro o 14:30, a to všetko pred dokonalým rodinným stretnutím na večeru v meste. Aspen je dostatočne ďaleko od neustále sa rozrastajúceho pohoria Colorado Front Range, takže zostáva výrazne tichší ako každé lyžiarske stredisko cestou, a to aj počas vrcholných prázdnin. Návštevníkov, ktorí očakávajú snobskú kultúru, vždy poteší, keď v hornom údolí Roaring Fork Valley nájdu ústretovú, takmer európsku pohostinnosť, a hoci to nie je lacné, ceny za lyžovanie a ubytovanie sú na úrovni (a dokonca aj nižšie) ako v niektorých z konkurenčných stredísk v Colorade. Ničím zvláštnym tu nie je stretnúť hviezdy svetového charakteru ako napríklad Mariah Carey. Ak sa vám podarí Aspen preniesť zo zoznamu prianí do reality, stavíme sa, že ho nevynecháte počas každej nasledujúcej sezóny.
Whistler Blackcomb, Britská Kolumbia, Kanada
Dvaja vedľa seba stojaci lyžiarski giganti sa týčia zo sviežeho údolia posiateho jazerami a šplhajú sa vysoko popri hraniciach stromov do rozľahlej alpskej zóny ľadovcov, skalných útesov a úžasu. Toto je miesto, kde nekonečné zjazdovky striedajú rozsiahle detské zóny, ponúkajú najväčšiu porciu skutočne expertného terénu na kontinente a celý samostatný vesmír lyžovania medzi stromami. Očakávajte veľa snehu, lákavú nadmorskú výšku a premenlivé teploty, ktoré prinášajú zmiešané potešenie a zážitok sprevádzaný slnkom aj snežením. Malebné mestečko Whistler a jeho centrum bez áut prekvitá internacionalizmom, vitalitou a nepretržitým duchom zábavy. Dokonalý pôžitok si darujete, ak do Whistleru pocestujete autom z Vancouveru po diaľnici známej ako "od mora až po nebo", ktorá je svojimi výhľadmi zážitkom už sama o sebe. Prevezte sa lanovkou so skleneným dnom a dajte si šálku skvelej kávy s výhľadom na majestátne hrebene hôr. Atmosféra vo Whistleri je neopakovateľná a kto ju raz ochutnal, nikdy na ňu nezabudne.
Aj vy máte chuť okamžite si obuť lyžiarky, skočiť do viazania a pustiť sa šusom vpred?
Silvia Cipruš