Len málo kvetov dokáže vzdorovať zime v našich zemepisných šírkach. O to je ich krása vzácnejšia a v záhrade cennejšia. Radosť do pochmúrnych dní vnesú aj kvety črepníkové, ktorých kvitnutie je načasované práve na zimné obdobie.
Zdalo by sa, že rastliny si pod snehom užívajú zaslúžený vegetačný pokoj. Pre pár druhov to však absolútne neplatí. Každý druh má vlastnú stratégiu na prežitie a časť rastlín využíva malú konkurenciu ostatných druhov, aby vykvitla a vytvorila semená práve v priebehu zimy. Je obdivuhodné, ako tieto rastliny znášajú kolísanie teplôt okolo nuly.
Krásavica pod snehom
Asi najväčším rekordérom je v tomto smere čemerica. Táto rastlina opradená mýtmi a pre vysoký obsah jedovatých glykozidov považovaná za čarodejnícku, býva okrasou zimných záhradiek. Anglickí a francúzski šľachtitelia ju doviedli do takej krásy, že dnes máme k dispozícii nielen dvojfarebné, ale aj plnokveté kultivary. S prvými kvetmi čemerice sa môžeme stretnúť už v decembri, no a kvitnú väčšinou až do začiatku apríla. Lupene kvetov a výrazne zelené listy čemerice nádherne vyniknú aj na zasneženej záhrade. A ak by ste na sneh čakali márne, vytvorte si z čemerice dekoráciu priamo na záhradnom stolíku alebo na okennom parapete. Golier z výrazných listov vytvorí pre jej kvety peknú korunu a vy k čemerici môžete pridať aj ďalšie zelené rastliny. Na výber máte v tomto období napríklad dreviny cyprusov, brečtan, ihličnany alebo cezmínu. Dekoráciu z čemerice môžete doplniť aj trávami alebo vresom. Pekný aranžmán vo vyššom prútenom koši vytvoríte napríklad z ostrice japonskej a bielo kvitnúceho vresu obyčajného.
Ako ju pestovať?
Čemerica sa s obľubou pestuje v záhradách ako skorá okrasná jarná rastlina. Vyznačuje sa tým, že sa jej dobre darí v podmienkach, ktoré sú podobné tým lesným, preto pri jej výsadbe, uprednostňujme polotieň a miesto chránené pred vetrom, to môže byť napríklad v zátiší pod opadavými kríkmi. Na jednom stanovišti dokáže vydržať veľmi dlho a postupom času naberá aj na kráse. Ak chceme rastlinku presadiť z kvetináča na záhon, urobíme to najneskôr v septembri, aby pred zimou stihla dobre zakoreniť. Po zasadení následne pôdu prikryjeme aj vrstvou lístia. V prípade, že sa rozhodneme čemericu zasadiť na jar, nesmieme ju zabudnúť zalievať pravidelne až do konca leta, aby nám dobre zakorenila. Rastlina obľubuje priepustnú, vlhkú, ale nie príliš premočenú, vápenatú pôdu bohatú na humus. Raz ročne ju môžeme prihnojiť organickým hnojivom, za čo sa nám odvďačí nádherným zakvitnutím v budúcej sezóne! Čemerica sa rozmnožuje vysemeňovaním, v okolí materskej rastliny, kde pozorujeme vyrastať malé semenáčiky. Rastlinky, ktoré vyrastajú zo semien začínajú kvitnúť až po niekoľkých rokoch, zvyčajne 3-4, čo znamená, že pri čakaní na prvé kvietky, musíme byť trpezliví.
V netradičnom obale
Krása čemerice môže byť ešte znásobená najrôznejšími dekoračnými obalmi. Najviac sa k nej hodia rustikálne koše, ošietky, krčahy alebo pozinkované obaly. Využiť môžete aj starú formu na pečené bábovky alebo kanvicu na mlieko, ktorá už doslúžila. Vo všetkom bude vyzerať ako kráľovná na tróne. Úplne jednoduchú a efektnú dekoráciu získate, keď kvetináč čemerice obalíte kúskami brezovej kôry a tú potom obmotáte párkrát dookola huňatou bielou priadzou. Biela kôra brezy s nepravidelnou čiernou kresbou je plná najrôznejších ornamentov a čiar. Môžete ju využiť aj na ozdobenie kvetináča s čemericou. S tou farebne súznie. Na hornú stranu kvetináčov položte kúsky machu a okúzľujúci zimný aranžmán je hotový za pár minút.
A čo tak zátišie?
K dovedeniu aranžmánu s čemericou k úplnej dokonalosti často postačí len pridať okolo rastliny kúsky machu a na stôl položiť pár vetvičiek obrastených lišajníkom, vetvičky smrekovca aj s miniatúrnymi šiškami alebo peknú zapálenú lucerničku. Mihotavé svetlo sviečok urobí z terasy nádherné miesto zaľahnuté zimným šerom. Ak vám zostane kúsok brezovej kôry, vyrežte z nej drobné hviezdičky a rozprestrite ich po okolí. Vždy však využívajte iba kôru z vyrúbaných stromov. Veľakrát postačí z padlého kmienka spráchnivelé drevo len vyklepnúť a kôra zostane pekne v celku. A s ňou hurá do zátišia.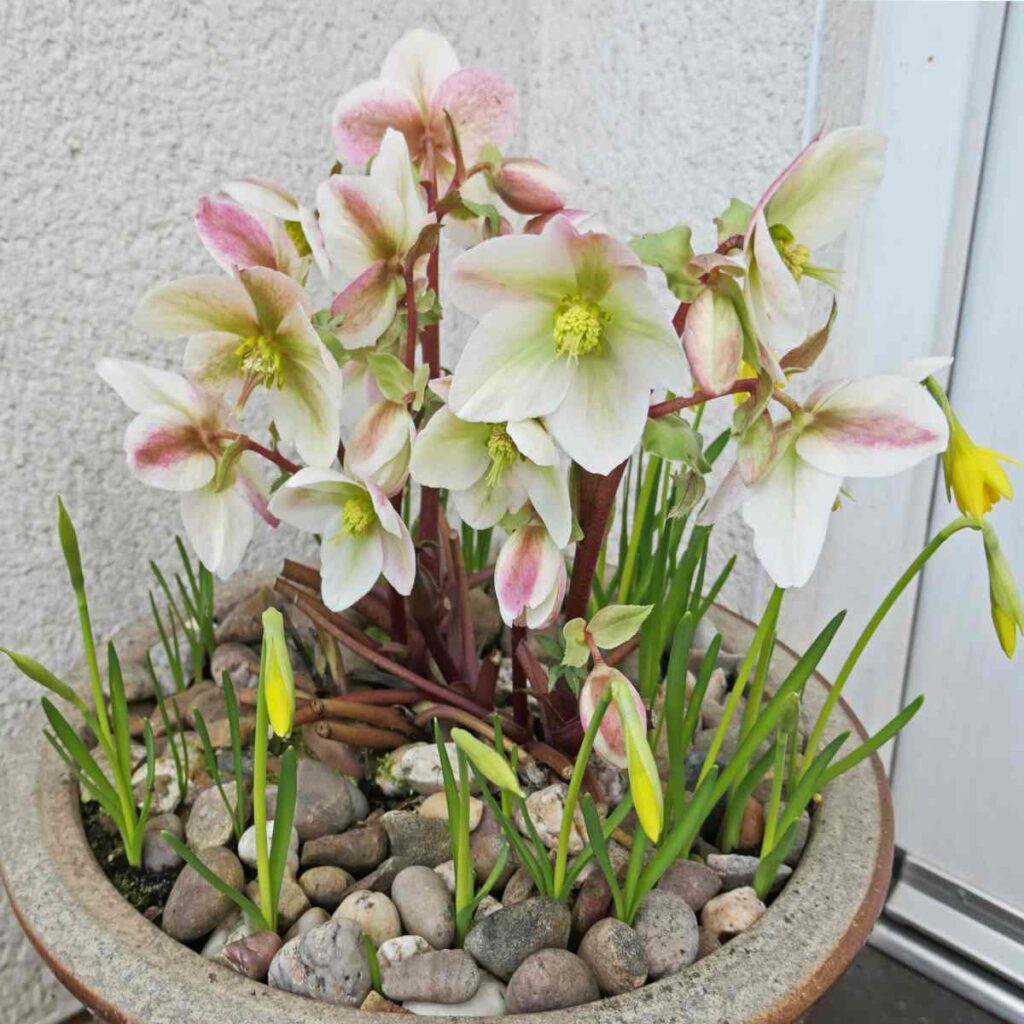 Vedeli ste, že…
Čemericu čiernu odporúčali už starogrécki lekári. Cenil si ju aj Hippokratés, ktorý ju v 5. storočí pred n. l. predpisoval ako preháňadlo. Na liečebné účely sa pred začiatkom vegetačného obdobia, t. j. skoro na jar alebo po jeho skončení, t.j. na jeseň zberajú podzemky čemerice čiernej, ktoré po dôkladnom očistení sušíme v polotieni na dobre vetranom mieste alebo v umelých podmienkach pri teplotách do 40 stupňov. Výsledná droga má horkú a pálivú chuť. Pôsobí predovšetkým ako silné kardiakum (liek podporujúci činnosť srdca) a diuretikum (liek podporujúci vylučovanie moču).