Knižný román Slúžka autorka Hana Lasicová pokrstila v bratislavskom Panta rhei. Na motívy knihy vznikol rovnomenný film režisérky Mariany Čengel Solčanskej. Na pódiu sa tak stretli herec Marko Igonda, autorka piesne k filmu Zuzana Smatanová a Mariana Čengel Solčanská. Dielo z vydavateľstva Ikar pokrstili čistiacimi pomôckami, ktoré boli v tom čase pre slúžky nutnosťou. Večerom sprevádzal Roman Juraško. 
Dej v knihe sa odohráva v období rozpadu rakúsko-uhorskej monarchie. Príbeh je inšpirovaný reálnou tetou Ankou. Bola to pestúnka mamy autorky, Magdy Vášáryovej. V tom čase odchádzalo množstvo mladých dievčat (často nedobrovoľne) do Viedne, medzi nimi aj Anka, nemanželské, všetkými odstrkované dievča z Banskej Štiavnice, ktoré začne slúžiť ako pomocnica vo vysokopostavenej viedenskej rodine. Otázkou je, či dokáže zvládnuť nielen množstvo otrockých pracovných povinností, ale aj stratu domova a svoje menejcenné postavenie v spoločnosti. Okrem toho na ňu ako na mnohé slúžky čakajú pokusy zvodcov z vyšších kruhov, ktorí sú ochotní sľúbiť hocičo, aby si mohli užiť s naivnými dievčatami túžiacimi po lepšom živote.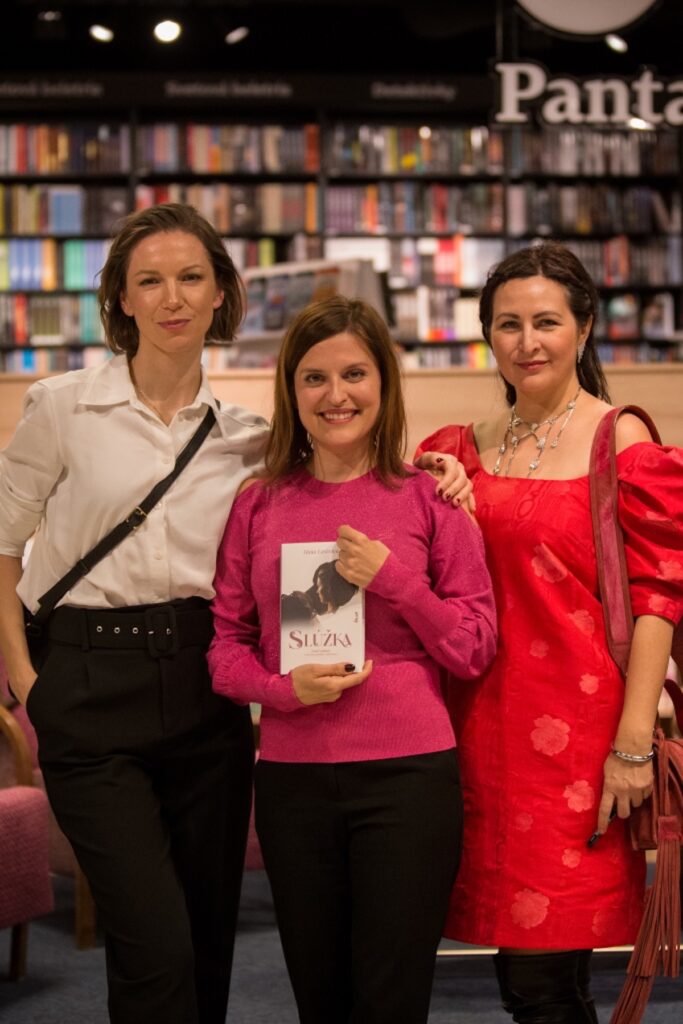 "Myslím si, že ženy – slúžky veľa o svojom živote nerozprávali, takže som si  musela veľa vecí domyslieť, o Anke sme vedeli, že si z panskej rodiny priniesla do Štiavnice dieťa. Keby vedela, že sme o nej napísali knihu a dokonca aj natočili film, zrejme by ju to zaskočilo," hovorí s úsmevom autorka publikácie. Režisérka si prvé vydanie Slúžky kúpila v období svojho tehotenstva: "Prvé vydanie ma veľmi dojalo. Hana vyrástla medzi prominentnými ľuďmi, ktorých som ja poznala iba zo stránok Slovenky. Moja mama ju stále kupovala a ja som pri jej listovaní hltala obrázky. Hana ich všetkých osobne dobre poznala a napriek tomu svoju knihu napísala citlivo a emotívne o slúžke. Vedela prečo si ju vyberá. Vtedy som v Hanu uverila. V jej talent a srdce." Nové vydanie knihy je obohatené o predslov autorky a filmovú prílohu. Tú tvoria zábery z nakrúcania filmu.
Hana Lasicová potvrdila, že na scenári pracovali niekoľko rokov. "Všetky postavy, celková atmosféra, vyznenie a posolstvo zostalo rovnaké. Zmenil sa priestor a nastal posun v romantickom vzťahu, ktorý je v knihe klasicky heterosexuálny, nenaplnený, ale vo filme rôznych dôvodov posunul do homosexuálnej roviny," prezradila autorka. Filmovú verziu Slúžky ovplyvnil najmä jej otec. "Bol prvý, dobrovoľný dramaturg na scenári, ktorý sme s Marianou napísali. Práve on prišiel s tým, že všetko je to dobré, a povedal len jednu vetu – čo keby to bol vzťah medzi dvomi ženami. Hneď sme pochopili, že má pravdu, že týmto spôsobom lepšie vyjadríme nenaplnenosť alebo nemožnosť vzťahu medzi dvomi ľuďmi." Krst prebehol v príjemnej neformálnej atmosfére. "Druhé vydanie má filmovú obálku a celá kniha korešponduje s filmom. Naša redakcia spravila kus dobrej roboty, občerstvili text a som úprimne rada, že sa tu s tvorcami stretávam pod hlavičkou nášho vydavateľstva,"objasnila Gabriela Belopotocká z Ikaru.
V hlavnej úlohe filmu sa predstavia Dana Droppová a Radka Caldová a do kín príde 2. februára.