V roku 2013 profesor Štefan Nosáľ pri príležitosti 65. výročia založenia Umeleckého súboru Lúčnica, poskytol rozhovor, v ktorom odpovedal na otázku ohľadom dlhoročného pôsobenia súboru na jednej adrese –  Štúrovej ulici v Bratislave: "Patrí nám zvýšené prízemie a suterén, ale sálu nemáme". 
Prvýkrát po takmer 75-tich rokoch bude mať Umelecký súbor Lúčnica, príspevková organizácia Ministerstva kultúry SR, svoju vlastnú budovu, v ktorej budú pôsobiť všetky zložky: tanečný súbor, spevácky zbor, orchester, krojáreň a administratíva.
Od svojho vzniku v roku 1948 Lúčnica pôsobila v prenajatých priestoroch na Dunajskej a Štúrovej ulici, následne v priestoroch telocvične základnej školy na Jesenského ulici, odkiaľ sa po odpredaji budovy na ďalšie roky udomácnila v podzemí tanečnej sály baletu v historickej budove SND.
Novou adresou Lúčnice bude Kollárovo námestie 10, sídlo známe pod názvom Hurbanove kasárne, ktoré bolo doposiaľ vo vlastníctve ministerstva kultúry. Ide o samostatnú dvojpodlažnú budovu, nachádzajúcu sa v spodnej časti pozemku v celkovej úžitkovej výmere približne 1 600 m2.
"Pamätám si, ako sme sa tu stretli v apríli 2020, krátko po mojom nástupe do funkcie. Ministerstvo kultúry vtedy dávalo Lúčnici tieto priestory do prenájmu. Dnes môžeme povedať, že Lúčnica po 75 rokoch dostala do užívania priestory, na ktoré ministerstvo kultúry vyčlenilo približne 100 000 eur. Pri tejto príležitosti ďakujem lúčničiarom a lúčničiarkam, ktorí a ktoré si vyhrnuli rukávy a aj vďaka nim to tu dnes vyzerá oveľa lepšie než pred tými troma rokmi. Je pre mňa veľkou radosťou, že tu dnes môžeme odprezentovať konkrétne výsledky, nielen hovoriť o tom, čo plánujeme a ako by to malo vyzerať. Zároveň som rada, že sme týmto tiež naplnili ďalší z bodov programového vyhlásenia vlády," vyjadrila sa na dnešnej tlačovej konferencii ministerka kultúry Natália Milanová.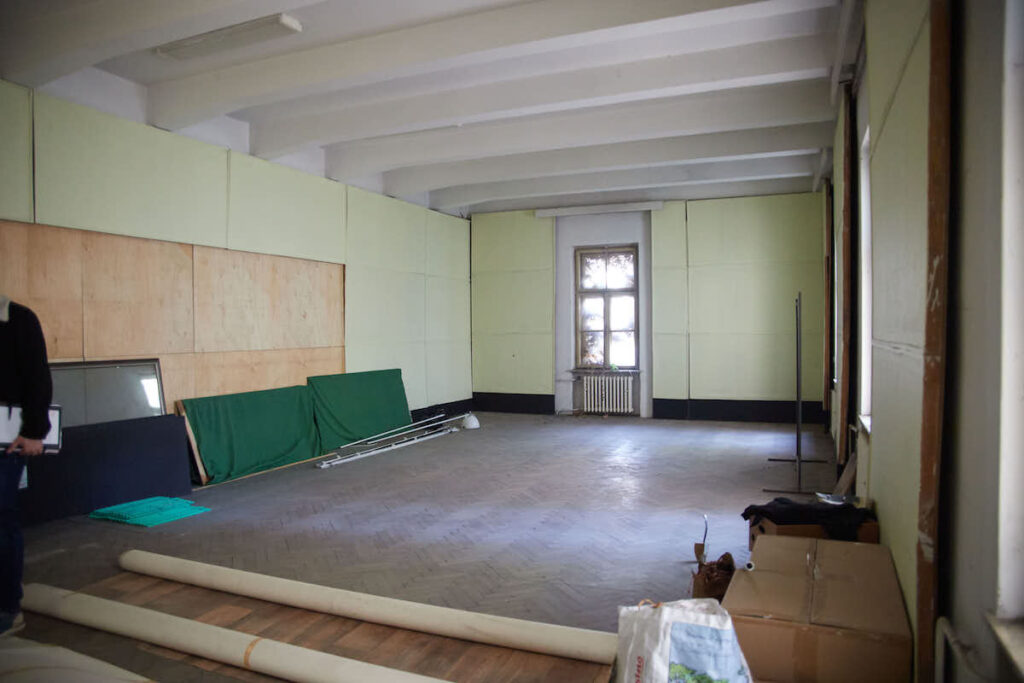 "Dnešná tlačová konferencia je veľmi milým a symbolickým momentom, keďže Lúčnica v tomto roku oslavuje 75. výročie svojho vzniku. Sme radi, že po 75 rokoch môžeme povedať, že budeme mať vlastné sídlo ako jedna z posledných príspevkových organizácií ministerstva kultúry. Je to pre nás veľký záväzok do budúcnosti, pretože sa nám končí dlhodobé obdobie prenájmov, kedy boli jednotlivé časti súboru roztrúsené na rôznych adresách. Získanie tohto objektu do našej správy bude preto skvelým miestom pre realizáciu našich aktivít a zhmotnenie idey mať jednotné sídlo, kde sa môžeme všetci stretávať. Celková investícia potrebná na rekonštrukciu tohto priestoru je 1,6 milióna eur. Dobrou správou je, že predpokladáme, že približne 1,3 milióna eur sa nám podarí získať z Plánu obnovy, konkrétne z výzvy ministerstva dopravy na obnovu historických a pamiatkovo chránených budov. Posledným krokom, ktorý k tomu potrebujeme, je právoplatne vydané stavebné povolenie," dodal generálny riaditeľ US Lúčnica Pavol Pilař.
Hurbanove kasárne získalo ministerstvo kultúry v roku 2010 od rezortu obrany. Umelecký súbor Lúčnica získal v júni 2020 časť priestorov do výpožičky. V roku 2021 boli na druhom nadzemnom podlaží zrekonštruované dve tanečné sály so šatňami a potrebným zázemím. Investícia vo výške 180-tisíc eur bola hradená z vlastného rozpočtu organizácie s finančným príspevkom Nadácie Pro Lúčnica. Od 01. 09. 2022 je Umelecký súbor Lúčnica správcom nehnuteľného majetku štátu (a to prevádzkovej budovy a pozemku, na ktorom je budova postavená), ktoré sa nachádzajú v areáli Hurbanových kasární.
Po získaní budovy do výlučného vlastníctva v septembri 2022 bola spracovaná projektová dokumentácia ďalšej rekonštrukcie, ktorá je zameraná na výmenu strešnej krytiny, okien a zateplenie objektu. US Lúčnica chce získať finančné prostriedky vo výške 1,3 milióna eur na túto aktivitu z Plánu obnovy. Realizácia sa predpokladá v druhej polovici roka 2023.
Súčasne je plánovaná rekonštrukcia zvyšných priestorov druhého nadzemného podlažia. V týchto priestoroch má vzniknúť zázemie pre administratívu, skúšobňa pre orchester a zbor a notový archív. V poslednej etape rekonštrukcie majú byť priestory prízemia adaptované pre potreby krojovej dielne, skladu kostýmov a skladu techniky.