Adela Vinczeová nepodceňuje sebapoznávanie. Pre ňu je to cesta, ako byť lepšia k sebe, k ľuďom okolo a páči sa jej ju objavovať. So všetkými temnými zákutiami, ktoré sa na konci vyjasnia. A tak stále dokola..
Čo pre Vás znamenajú Vianoce?
Mám ich veľmi rada. Nepečiem, ani nič špeciálne nevyváram, ale viem si užiť oddych, ktorý je mi dopriaty od práce. Ideme k mojim rodičom, ku svokrovcom a všetko v pomalom a pokojnom duchu. To sú pre mňa Vianoce. Predstava, že by som zdobila byt je pre mňa skľúčujúca, pretože potom treba tie ozdoby niekam odkladať a zaberajú miesto. To je niečo, čo nemám rada.
Kto u vás pripravuje na Štedrý večer večeru? A čo rada jete Vy?
Tí rodičia u ktorých trávime Štedrý večer. Navštívime v ten deň obe strany, tento rok moja mama pripraví niečo drobné pod zub, prídeme tam poobede, podebatujeme, zahráme si nejakú hru a presúvame sa ku svokrovcom na slávnostnú večeru.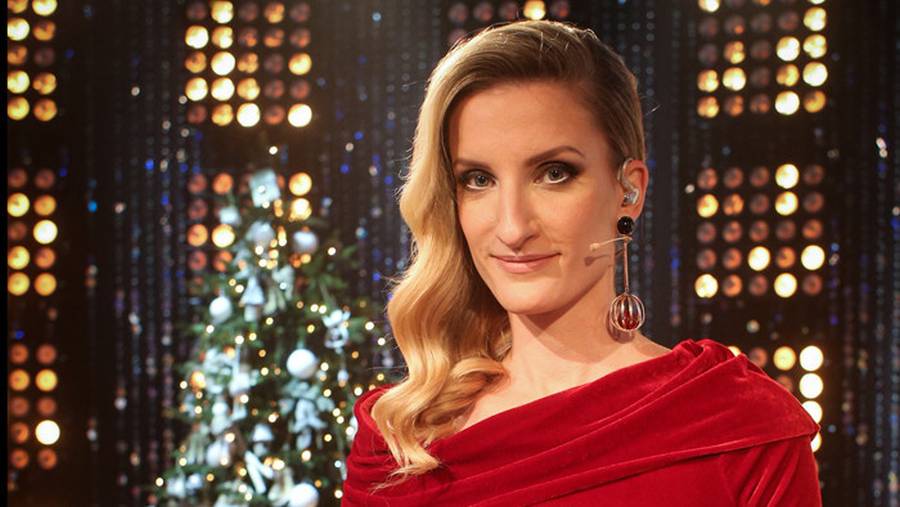 Pamätáte si z detstva tradície, ktoré ste dodržiavali? Mali ste ich rada alebo ste im nerozumeli?
Matéria je počas sviatkov veľmi skloňovaná. Vy inklinujete k šetrnému prístupu ku planéte. Čo by sme podľa vás mohli robiť pre to, aby sme matku Zem odľahčili v tomto období najviac, ako je možné?
Nemyslím si, že to úplne všetci preháňajú so zbytočnými nákupmi. Poznám aj rodiny, kde si darujú každý jeden darček. Ale je aj dosť rodín, ktoré zažívajú nájazd divochov, ktorí sa vrhnú na haldy darčekov, roztrhajú papiere a za päť minút je všetko vybavené. Aj radosť pominie tak rýchlo. V princípe tomu bezhlavému nakupovaniu, "len aby bolo", nerozumiem. Ak niečo potrebujem a mám na to, tak si to kúpim. Keď na to peniaze nemám, Vianoce to nezmenia. Ak chcem niekomu kto nemá financie spraviť radosť a podarujem mu niečo po čom túži, áno, je to super, ale skôr mám z Vianoc dojem, že sa kupujú veci len preto, aby niečo bolo pod stromčekom. A to je určite neekologické a zbytočné.
Po celý rok ste v kontakte s mnohými ľuďmi, je vám dobre samej? Viete si to cez sviatky vychutnať?
Najradšej mám pri sebe drobný okruh blízkych ľudí, najbližších priatelov a Viktora. Aj byť úplne sama je niekedy fajn. Ale najradšej mám túto moju vytvorenú oklieštenú spoločnosť.
Čo by ste popriali ľuďom na Slovensku?
Začať si všímať, kedy sa hneváme a cítime nenávisť. Postrehnúť tieto prejavy na sebe a hľadať dôvody prečo to tak je. Kvôli čomu sme smutní a cítime sa zle a začať mať radšej samých seba. Lebo inak sme voči ostatným veľmi obmedzení. Ja to volám rozmotávanie klbka príčin. Kvôli čomu sa cítime ohrození, prečo sa niekoho alebo niečoho bojíme, keď začneme klbko rozmotávať, na konci prídeme na to, že je to len o nás a v nás. Bolo by super, ak by sme sa začali takto viac spoznávať, liečiť sa a mať sa radšej. Ešte stále žiaľ badám na Slovensku veľa smutných ľudí, ktorí nevidia, že riešenie je v nich samotných.
Čo robíte pre to, aby ste aj v náročných životných otázkach zostala pokojná?
Verím tomu, že v živote sa všetko deje v dokonalosti a základom je akceptácia a prijatie vecí, ktoré k nám postupne prichádzajú. A nebojovať proti nim, pretože ak by to malo byť inak, je to inak. A najmä je dôležité, že mojou energiou dokážem veľmi veľa meniť. Čiže, keď ju ja sama zaktivizujem, pohnú sa aj veci vôkol mňa a začne to krásne v pokoji plynúť. S mojim prijatím a bez zbytočných pnutí. Opakom je "opúšťanie sa" a vtedy nás to vie ukážkovo stiahnuť dole špirálou. Prirodzene sa ako následok začne všetko rúcať ešte viac. Ostávam svojim pozorovateľom. Samozrejme, že sú momenty kedy zatínam päste a cítim krivdu spolčenia celého sveta, ale zároveň viem, že je to len prejav niečoho a netlačím sa do toho, aby som mala okamžite dobrú náladu. Odstúpim od seba a nakoniec vždy zistím, že je to o mne ako sa cítim, nie o tom druhom. Preto sa netreba hnevať na druhých, nemajú s tým nič spoločné.
Zaujímavé sú aj momenty precitnutia, kedy sa začneme samy na sebe aj smiať, keď si uvedomíme akú zbytočnú drámu vyrábame..
Najlepší terapeut je v tomto môj Viktor, ktorý sa smeje už v tej tragickej chvíli. Takže ja môžem byť v slzách, opustená, s pocitom konca sveta a on sa mi rehoce. V tom najlepšom. Našťastie vie rozlíšiť, kedy je to plač z hlbokého smútku a kedy je to plač z boja ega so svetom.
Čo vás na vašej práci najviac baví a čo unavuje?
Najviac ma unavuje stres, ktorý si v nej viem sama vytvoriť. Počas prípravy na rozhovor mám oveľa väčší stres než zo samotného rozhovoru. Stále rozmýšľam, či som to dobre skoncipovala, či to bude pre ľudí dostatočne zaujímavé a zabaví ich to. To ma na mne nebaví, tieto sebatrýznenia. Potom ma vyčerpávajú situácie, keď nie som paňou svojho diáru, ale musím sa prispôsobovať iným. Ešte mi vadia momenty, keď je toho príliš veľa. Akoby som to dopredu nevedela správne vyhodnotiť. Potom z toho vznikne veľký zhluk a to sa ťažko energeticky zvláda.
Ako sa o seba staráte fyzicky?
Čím viac cvičím, tým ma viac bolia kríže. Zrejme je to z toho, že som praktizovala cvičenie v mentálnom kŕči, že musím cvičiť aj keby čo bolo. A ešte som do toho šla aj otužovať, v honbe za zdravím som šla s rodičmi do jazera a z toho ma tak rozboleli kríže, že následná angína ma vlastne zachránila. Ležala som štyri dni doma, kým som sa dala konečne dokopy. Niekedy je lepšie sa o seba starať tak, že sa o seba nestaráme (úsmev). Občas naozaj treba kvasiť na gauči a dopriať si hovadinu pod zub.
Ako spracovávate smútok?
Plačem. Nehodnotím to a nebojujem proti smútku, iba ho preciťujem. Treba vedieť počúvať svoju dušu. Či sa hnevá, alebo je smutná, alebo je to iba vyskakovanie ega.
V súvislosti s vianočným časom, ktorý strávime v kruhu rodiny – čo robíte v rodine v prípade odlišných názorov? Argumentujete/ akceptujete / ignorujete sa navzájom?
Pre mňa je zaujímavé, že vždy skončíme pri tom, čo sme si už päť krát povedali, prišiel aj argument a vysvetlenie a na šiesty krát príde zase tá istá otázka. Dostali sme sa do istej rotácie, ale odlišné názory nenechávame zasahovať do rodinných vzťahov, to je veľmi podstatné. Vieme sa rozprávať aj o iných veciach a je nám spolu dobre.