Po legendárnej Hilde Múdrej je to naša druhá najúspešnejšia trénerka. Pani Hilda dala Slovensku Ondreja Nepelu, pani Agnesa zase Jozefa Sabovčíka. Ďalšieho krasokorčuliara svetového mena. Na začiatku januára oslávila významné životné jubileum.
Jozefa Sabovčíka priviedla k bronzovej medaile na olympiáde a k dvom titulom majstra Európy. Pod jej vedením získal Jozef Sabovčík bronzovú medailu na Zimných olympijských hrách v Sarajeve v roku 1984. Prvé miesta na Majstrovstvách Európy získal v rokoch 1985 a 1986. Jozef mal okolo dvanásť rokov, keď ho pridelili novej trénerke Agnese Búřilovej. "Zavolali ma na vedenie vtedajšieho Strediska vrcholového športu a tam mi povedali, že od budúcej sezóny trénujem Jozefa. Bola som veľmi prekvapená a dodnes neviem, prečo došlo k tejto zmene, a prečo vybrali práve mňa. Nič mi nepovedali, vtedy išlo všetko príkazom," spomína pani Búřilová. Sabovčíka dovtedy trénovala pani Ľudmila Lojkovičová, staršia, skúsená a veľmi dobrá trénerka. Pani Agnesa mala v tom čase ako začínajúca trénerka okolo tridsať rokov.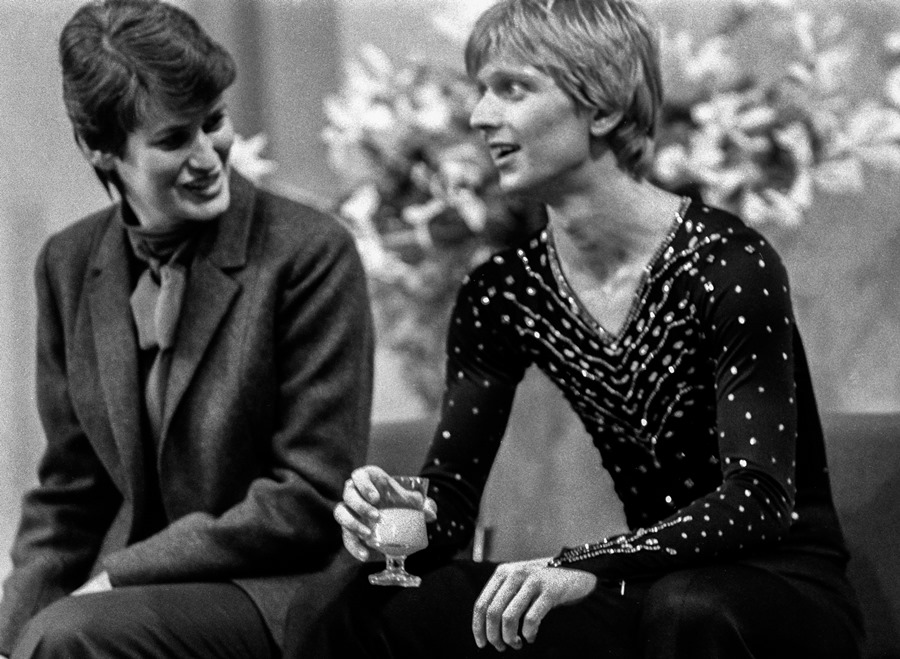 Zmena trochu "zaškrípala"
"Zo začiatku to nebolo veľmi príjemné. Lebo chlapec bol zvyknutý na pani Lojkovičovú. Nebola medzi nami taká súhra. No potom sa to už veľmi krásne upravilo. A ku koncu to už bolo výborné," hovorí. Podľa jej slov sa Jozef už od začiatku vynímal medzi ostatnými tínedžermi, čo trénovali v stredisku. "On bol veľký skokanský talent. To bolo na prvý pohľad vidieť. Jozef, už keď som ho prevzala, skákal dvojitého axla. A neviem, či nemal aj rozpracovaného trojitého salchowa. Skutočne už vtedy bol považovaný za veľký talent," opisuje bývalá trénerka. Pre poriadok ešte povedzme, že okrem Jozefa Sabovčíka trénovala pani Búřilová súčasne aj ďalších zverencov, najmä športové dvojice. Teda, nebolo to tak, že sa venovala len jemu jedinému.
Prvý "štvorák"
A potom to odrazu prišlo. Legendárne štvorité skoky! "Koncom jednej sezóny prišiel za mnou Jozef a vraví: ,Teta, ja idem skúšať štvoritého tulupa!´ A fakt je, že za pomerne krátky čas sa mu začal tento skok aj dariť. Najprv doskočil na dve nohy a postupne na jednu. Zaujímavosťou je, že on nikdy nepadal. Skutočne nikdy, nikdy "nič nepustil" a nespadol na ľad," uvádza pani Agnesa. Keď Jozef jazdil exhibície a mal prídavok, tak zaradil štvoritého tulupa, aby ho predviedol pred verejnosťou. A nakoniec sa rozhodli zaradiť štvoritý skok na majstrovstvách Európy. Bolo to v roku 1986 v Dánsku – v Kodani, kde skočil prvýkrát svoj štvoritý skok oficiálne, teda na pretekoch. Vďaka čomu dokázal skočiť tento náročný skok? "Na to treba dobré odrazové schopnosti a tiež aj koordináciu. Tým, že to vlastne bolo dieťa choreografa a primabaleríny, tak Jozef tú koordináciu mal. No a tie odrazové schopnosti dostal do vienka. To mal vrodené," vysvetľuje trénerka.
Obrovská satisfakcia
Agnesa Búřilová trénovala Jozefa Sabovčíka od jeho dvanástich rokov, až kým neskončil profesionálnu kariéru. "Tie jeho športové úspechy, to je pre mňa taká satisfakcia, v zmysle, že si poviem – skutočne sa oplatilo pracovať! Hlavne to vyhlasovanie výsledkov bolo veľmi emotívne. Lebo človek, či chce alebo nie, tak sa mu premietne všetko – celá tá príprava. A mne sa aj väčšinou vždy tlačili slzy do očí," prezrádza jubilantka. Jozef Sabovčík bol pre pani Agnesu veľkým úspechom, výsledkom jej skutočne kvalitnej trénerskej práce. Za to jej patrí nepochybne veľká vďaka. Pri príležitosti vzácneho životného jubilea si to všimol aj Slovenský olympijský výbor a pre pani Agnesu usporiadal slávnostný obed. A nielen pre ňu, na oslavu súčasne pozvali aj Jozefa Golonku, ktorý sa pred pár dňami dožil 85 rokov. Konala sa tak dvojnásobná slávnosť a krasokorčuľovanie i hokej sa krásne snúbili dovedna. Naša prestížna športová organizácia si uctila vynikajúcu trénerku i legendárneho hokejistu – Žiletku.
Športovalo sa aj doma
Pani Agnesa sa môže pochváliť tiež tým, že aj svoje deti viedla k športu. Obaja synovia hrali hokej, pričom syn Vladimír to dotiahol až na reprezentáciu Slovenska. Bol v hokejovom mužstve, ktoré nás reprezentovalo na olympiáde v Lillehammeri v roku 1994. "Tu však musím podotknúť, že to bola aj zásluha môjho manžela, pretože to on chlapcov brával na tréningy," objasňuje. A športové nadanie sa v rodine dedilo po ďalšie generácie. "Vladimírov syn Matej bol veľmi dobrý tenista a teraz je skvelý tréner. A mám ešte šikovné vnučky. Jedna z nich, trinásťročná Peťka, hrá v Poľsku volejbal ako juniorka. Je členkou juniorského výberu," pýši sa pani Agnesa.
Viera Mašlejová
Foto: SOV, A. B.