Byť človekom je asi to najťažšie, čo nás v živote postretne. Táto myšlienka A. P. Čechova by mohla charakterizovať najnovšiu premiéru Divadla Alexandra Duchnoviča v Prešove. Rusínske divadlo sa spolu s režisérom Svetozárom Sprušanským rozhodlo tento krát siahnuť po jednej z Čechovových hier – po Ivanovovi. Vzniklo predstavenie silných emócií, nádherných javiskových obrazov, strhujúcich hereckých výkonov, novej a súčasnej interpretácie klasiky. Aktuálnej výpovede o dnešku. O nás. Predstavenie plné človečiny.
Prešovský Ivanov je muž, ktorý stojí na rozhraní aktívneho života a staroby. Má šesťdesiatdva rokov. Hodnotí svoj doterajší život. Sám sebe nerozumie. Kedysi, veľmi dávno, bol plný života a energie. Spoločensky sa angažoval, iniciatívne menil veci k lepšiemu. Aktívne hľadal cestu k ľuďom, k lepším zajtrajškom… A dnes? Nič ho nezaujíma. Ani vlastný život, ani tí ostatní, ani dlhy, ktoré narobil a ktoré zaťažujú jeho majetok. Kedysi miloval svoju manželku, ktorú jej rodina pre jeho vieru zavrhla a vydedila. Ale dnes ju už nemiluje. Nedokáže ju milovať. Hoci vie, že čoskoro zomrie. A nanovo sa zaľúbi. Aspoň sa mu to tak zdá… 
Libezňuk k svojmu výkonu dodáva: Ivanov je novodobý Hamlet. Hral som ho na začiatku svojej hereckej kariéry. A dnes sa pomyselný kruh uzatvára. Mam vyše šesťdesiat rokov a viem, že viac z tej cesty života mám za svojím chrbtom ako pred sebou. Ivanova prenasledujú obavy z budúcnosti. Je otrávený sebou, ale aj bezútešnými pomermi v spoločnosti. Všetkými, ktorí ho obklopujú. Stratil akúkoľvek energiu, chuť do života. Jeho duševná prázdnota zrkadlí všeobecný chlad, povrchnosť a malichernosť, egoizmus a bezohľadnosť okolitého sveta. On však cíti potrebu zásadnej zmeny. Nedokáže ju však uskutočniť. Je to len tým, že už je starý…? 
Režisér inscenácie a autor scénickej i kostýmovej výpravy Svetozár Sprušanský dopĺňa: V Ivanovovi sa zrkadlí náš súčasný život a realita. Tu a dnes. Vo svojej konkrétnosti aj univerzálnosti ľudského údelu. Trpkosť poznania o podstate človeka neustále "dochucujeme" sladkosťou humoru a sebairónie postáv. Naša inscenácia je fraška. V závere možno až príliš drsná fraška. Výtvarnou stránkou predstavenia, ale predovšetkým hereckou hrou sme sa snažili divákovi jasne tlmočiť náš postoj k svetu, ktorým žijeme. Je to svet neľútostný aj zábavný, krutý aj poetický. A človek v ňom sa seba pýta: "Ako to žijem? Som to ešte ja?" Čechovova prvá "veľká" hra Ivanov mala premiéru v roku 1887. Jej postavy boli predobrazmi ďalších postáv z veľkých hier tohto autora. Zosobňujú všetky zložitosti ľudských vzťahov. Naše túžby, sny, slabosti, obavy, prednosti aj zlyhania. A ešte živšie ako kedysi. Autor ich "kreslí" neuveriteľne prezieravo a pravdivo. Sme to jednoducho my, čo sa vidíme na javisku.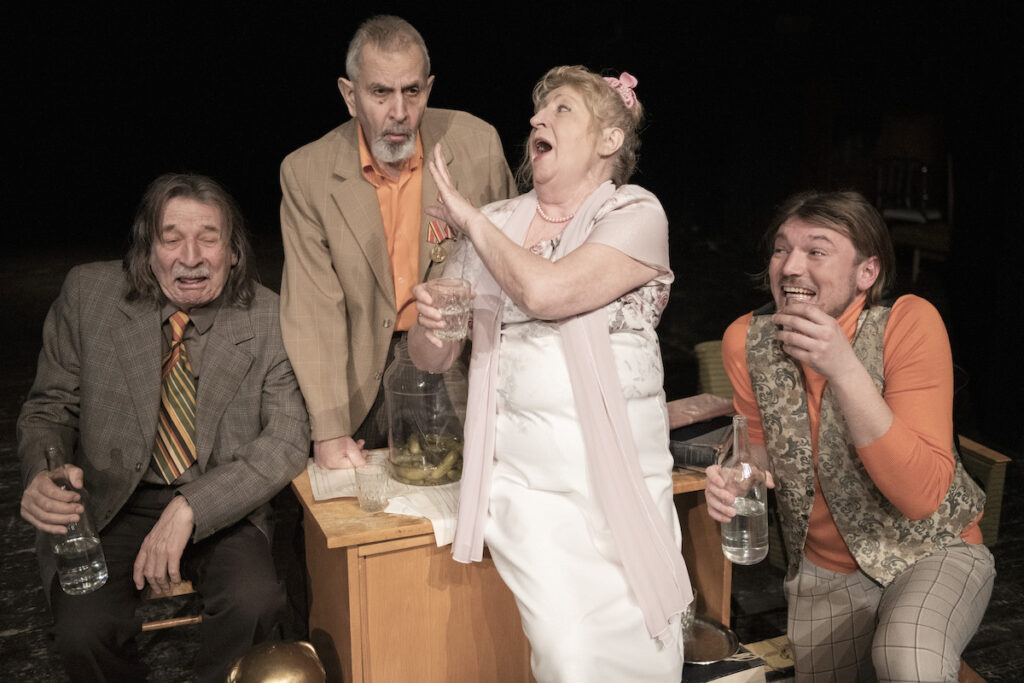 Premiéry Ivanova sú naplánované na 17. a 22. marca 2023 o 19.00 hod. vo Veľkej sále Divadla Alexandra Duchnoviča v Prešove. Bratislavské premiérové uvedenie tejto inscenácie sa uskutoční 20. júna 2023 v Divadle P. O. Hviezdoslava v Bratislave.